Bose Has Introduced the SoundDock 10 Digital Music System
Posted on: 16 September 2009
By:

chw staff

Bose has introduced the SoundDock 10 digital music system, delivering audio performance previously unattainable from a one-piece speaker system for iPod. Using advanced engineering and new technologies, the SoundDock 10 system is the premium SoundDock system from Bose, joining the SoundDock Series II system and SoundDock Portable system in the acclaimed product line.
The new SoundDock 10 system was designed to reset the standard for how good an iPod can sound from a single enclosure. It maintains dock-and-play simplicity in a small, elegant design -- yet plays with exceptional clarity across the full musical range, and delivers the low-note performance and volume levels of much larger sound systems.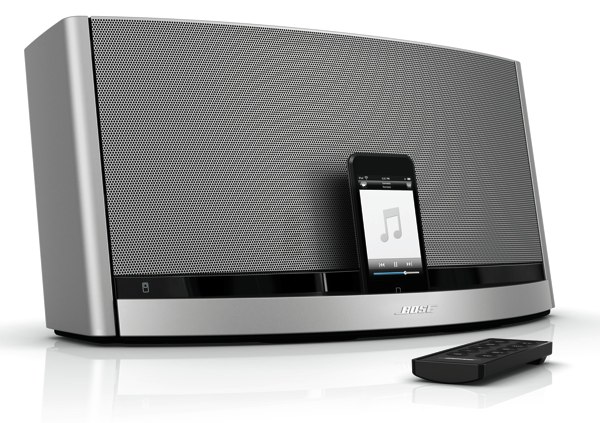 "The SoundDock 10 system is for people who want the sound quality of a primary music system for their iPod or iPhone," said Phil Hess, vice president of the Bose Home Entertainment Division. "We started with a clean sheet and a clear goal: to deliver unparalleled audio performance without the need for complicated equipment. We then developed new technologies to deliver that performance without compromise."
Advanced Engineering and New Technologies
The SoundDock 10 system was designed as an integrated system and uses advancements from every Bose engineering discipline.
Measuring approximately 9" high, 17" wide and 10" deep, it incorporates new and existing Bose technologies, including a new version of Bose proprietary waveguide technology -- debuting for the first time and developed specifically for the SoundDock 10 system. The new waveguide was reduced from 75" to 52" without compromising audio performance, and is folded precisely in the system`s small enclosure, using every cubic inch of acoustic space. It is matched with a newly designed Bose woofer, made exclusively for the SoundDock 10 system to deliver four times the efficiency of a conventional woofer.
Together, the new waveguide and custom Bose woofer produce very deep low notes, without enlarging the enclosure or requiring a separate subwoofer. They are connected by a proprietary multi-purpose metal cap that met a required combination of benefits: it seals the waveguide and woofer, provides magnetic shielding, directs air through the enclosure, and withstands the high internal pressure created by the system when played.
Two proprietary Bose Twiddler® transducers (a combination of a high-frequency transducer and mid-range driver) are optimally positioned in the front of the system to complete the full-range of accurate musical reproduction.
The SoundDock 10 system`s electronics package is integral to achieving its performance and size. Proprietary digital signal processing algorithms improve musical instrument detail and definition. Audible distortion is reduced, and all frequencies can be heard when the system is played quietly. The system is driven by efficient amplifiers and a switching power supply housed within the system, eliminating the need for an external transformer. Users need only manage a simple power cord.
A proprietary vibration isolation structure is used to maintain iPod or iPhone performance, regardless of the listening level. For heat management, components are precisely positioned to create a "chimney effect," efficiently cooling the system.
New Functionality: For Today and Tomorrow
The SoundDock 10 system is Made for iPod and Works with iPhone certified, compatible with any click-wheel iPod or iPod Touch, and the iPhone 3GS, 3G and original iPhone model.
It features a new, proprietary interchangeable docking architecture, designed to "future-proof" the system and protect an owner`s investment as new media player technologies emerge. A Bluetooth® dock is offered separately and streams music wirelessly from a stereo Bluetooth music phone. As new devices become established standards, new docks will be made available.
An auxiliary input allows for the connection of additional equipment -- an iPod shuffle, MP3 player or portable CD player. A video output lets users play video from an iPhone or iPod on a TV while listening to the soundtrack on the SoundDock 10 system. An infrared remote controls the system and the basic functions of an iPod or iPhone, including playlist navigation. It also allows listeners to switch back and forth between sources.
"The SoundDock 10 system is a thrilling product made possible through our research," said Hess. "We believe its performance and elegance stand alone. And we believe that becomes evident the very first time an owner listens to a favorite iPod playlist or Pandora music station."
Pricing and Availability
The SoundDock 10 digital music system is available from Bose for $599; the optional Bluetooth interchangeable dock is available for $149.Both will be sold at select authorized Bose dealers, Bose retail stores, www.Bose.com, or toll free at 1-800-444-BOSE (2673) beginning September 21, 2009. The SoundDock Portable digital music system and the SoundDock Series II digital music system will remain in the product line for $399 and $299, respectively.