Buffalo Technology Adds LinkStation V-Series to NAS Family
Posted on: 15 October 2010
By:

chw staff
Buffalo Technology LinkStation network storage family has been extended with the addition of the V-Series range of Network Attach Storage (NAS) solution. The new line consists of LinkStation Pro. LinkStation Pro Duo and LinkStation Quad. As Standard there is connectivity for the Apple range of handheld devices, automatic backup and the ability to access your LinkStation from anywhere in the world from a internet connection.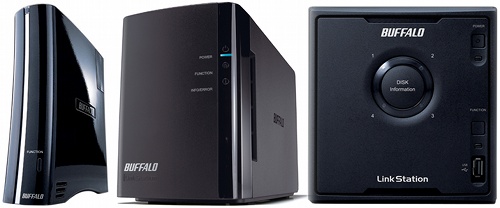 With the freely available WebAccess i app for Apple's iPhone and iPod touch and WebAccess i app HD for iPad you can access and stream content directly from a LinkStation to your Apple device.
Each member of the new LinkStation V-Series family utilizes a 1.6 GHz processor, giving users unbeatable performance with network transfer speeds up to 76 MB/s.  The dual drive LinkStation Pro Duo and the four drive LinkStation Pro Quad feature RAID redundancy for data protection and user removable quick swap hard drives for simple drive servicing without the need for tools.
The new Buffalo LinkStation V-Series family is DLNA CERTIFIED for simple streaming to any DLNA compatible media device, including Sony PlayStation 3 and Xbox 360. Plus, the LinkStation family supports seamless integration with iTunes, allowing the application to access to music and movie files stored on the server.
The LinkStation V-Series family also supports Apple Time Machine for easy backup and Apple Bonjour, making it well suited for Mac environments. For Windows environments, the LinkStation V-Series family is equipped with NovaBACKUP Business Essentials for a powerful, yet easy-to-use backup solution.