Connected Home Application and Device's Internet Traffic Will Be The Most Demanding by 2023
Posted on: 1 March 2020
By:

chw staff
The connected home and its services don't sometimes hold the headline in regular newspapers for the good things it is doing for many individuals and homes.  Some stories you will read will let you believe that is a fad and will remain relevant but only for geeks who understand it.  However, after reading the Cisco annual internet report you will get a totally different picture on how this technology and its use is growing in popularity for all.  Cisco is one of the biggest network service providers in the world and most of the internet's traffic goes through their devices at some point to reach its destination.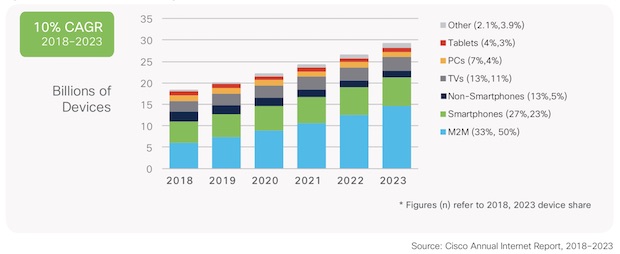 Machine-To-Machine (M2M) which is also referred to as Internet-of-Things (IoT) includes those home devices that connects to the internet and allow us to access and control them from our phones. According to the Cisco report, M2M connections will be half of the global connected devices and connections by 2023. Its share of internet connections will grow to 50 percent or 14.7 billion M2M connections by 2023. Among these, the devices that we use to manage our energy use will be the fastest growing, followed closely behind by Connected Car applications.
Globally, devices and connections are growing faster than both the population and the Internet users. This trend is accelerating the increase in the average number of devices and connections per household. Each year, various new devices with increased capabilities and intelligence are introduced; these include smart meters, home video surveillance, healthcare monitoring and transportation. 
Connected TVs (which include flat-panel TVs, set-top boxes, digital media adapters [DMAs], Blu-ray disc players, and gaming consoles) will be the third fastest growing devices in the home.
The growth in connected home devices and application will have a big impact on internet use, forcing service providers to buy and install faster and more resilient equipment to cope with the demand.  Countries such as the US, South Korea and Japan are seen to be the most likely to be impacted, because of the growth in newer and multiple device ownership.  Video devices, in particular, can have a multiplier effect on traffic. An Internet-enabled HD television that draws three hours of content per day from the Internet would generate as much Internet traffic as an entire household on an average.
But technology doesn't stand still and the introduction of new video technology will have a greater impact because of the introduction of Ultra-High-Definition (UHD), or 4K, video streaming. The bit rate used to produce 4K picture quality is more than double the HD video bit rate and nine times more than Standard-Definition (SD) video bit rate.  Cisco estimate that by 2023, two-thirds (66 percent) of the installed flat-panel TV sets will be UHD.  Thus, the need for faster broadband.
"Connected home applications, such as home automation, home security and video surveillance, connected white goods, and tracking applications, will represent 48 percent, or nearly half, of the total M2M connections by 2023, showing the pervasiveness of M2M in our lives. Connected car applications such as fleet management, in- vehicle entertainment systems, emergency calling, Internet, vehicle diagnostics and navigation etc. will be the fastest- growing category, at a 30 percent CAGR. Connected cities applications will have the second-fastest growth, at 26 percent CAGR."
With nearly a third (66 percent or 5.3 billion) of the global population to have internet access by 2023, one can only expect the roll out of connected home experience to reach the masses.
Source: Cisco