Convert your Iphone to a Home Server with Freebit ServerMan
Posted on: 15 May 2009
By:

chw staff

[email protected] is the world's first product that lets users build their own "Personal Data Center" in just 5 minutes. First released in Japan on Feb. 4, ServersMan was soon in the spotlight in over 10 countries, including the U.S., widely featured in the media and on blogs, even though at that time it has been distributed only in Japan. Requests for overseas service continue to flow in, and FreeBit is pleased to announce that the internationalized version, 1.1b, is now available at the Apple App Store in the U.S.
Installing ServersMan transforms a mobile phone from a client device into a powerful server system that can draw on vast amounts of computing resources all over the world, since mobile phones are today the most widespread Internet access devices on the earth.
In the 10 days after ServersMan's initial release in Japan, new "Servers Running on iPhones " appeared every 92 seconds.
FreeBit utilizes its original technology, "Emotion Link", to build a entirely new cloud environment that crystallizes the company's driving vision of "Smart Infrastructure": the creation of future infrastructures with the power to solve serious problems confronting the IT industry today, including growing demand for electricity and a lack of IPv4 addresses.
Key Features of [email protected]
1. World's First "Mobile Cloud Storage"



The iPhone and iPod touch are transformed into "Mobile Cloud Storage" devices that allow users to use or publish memory space as network storage. Unlike other software, [email protected] has the following characteristics.。
3G compatible (not only Wi-Fi)
      FreeBit's overlay Internet technology "Emotion Link" enables access to an iPhone or iPod touch from various networks not only local Wi-Fi but also through 3G networks. Access is still possible, even if the iPhone or iPod touch is assigned a private IP address.
Connection through VPN when using 3G
      A connection route is secured with VPN when the client and the iPhone(server) are in the remote network.
      No matter what kind of network environment is used, the access URL to the iPhone or iPod touch is static, http://serversman.net/the-name-of-your-iPhone, ending the annoyance of dynamic IP addresses that have to be checked and typed every time the network is accessed. All users have to do is access http://serversman.com/ from the browser and submit their ID and password. [email protected] uses its "Cloud Switch" function to automatically analyze the connection environment and determine appropriate routing.
      A static address is available for WebDAV access too, no matter what the connection environment.
Easy file sharing on PCs, iPhones and iPod touches
 2. World's First "Mobile Cloud Web Server"



[email protected] is the world's first integrated service that allows a mobile phone to be used as a web server. Operation is simple, using the following URLs.
http://serversman.net/the-name-of-your-iPhone
Activates an iPhone or iPod touch as a web server. Emotion Link enables worldwide access, no matter the network environment to which the iPhone/iPod touch is connected. (Feature can be turned off. Default setting: OFF)
http://serversman.com/
Access to maintain files on an iPhone or iPod touch
http://serversman.net/the-name-of-your-iPhone
Runs the web server
Everything is simple.
   1. Put files into the "public_html" folder.
   2. Turn on the web server option. That's it.
HTML files are easily edited using the text editor on [email protected]. The iPhone name at the end of the URL can be changed instantly from your iPhone/iPod touch. All access can be shut out by the VPN gateway server by turning off the web server option, a function providing high level security. Web server based on the technology of famous lighttpd and Emotion Link, is built into ServersMan. CGI features will be implemented in a future release.
3. ServersMan Apps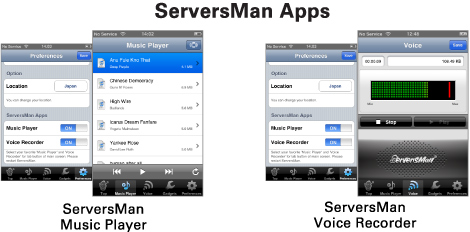 [email protected] includes ServersMan Apps, the application platform which enables "Personal Cloud Platform". FreeBit will open this platform to developers. Using ServersMan will dramatically expand the possibilities of existing applications.
Following applications will be initially installed with [email protected].
    * ServersMan Music Player
      You can send and play music files without using any cable or iTunes synchronization since the files can be controlled directly via web browser or WebDAV. ServersMan Music Player is available to play those files.
      Supported files: mp3, m4a
    * ServersMan Voice Recorder
      Your recorded voice data can be downloaded to your PC as AIFF file using web browser or WebDAV. No cable is required.
You can place shortcuts of ServersMan Apps to ServersMan taskbar.
4. ServersMan Gadget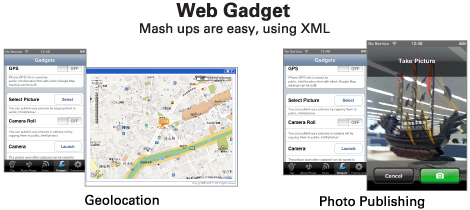 Various functions - GPS, camera, microphone, etc. - can be mashed up in real time on an iPhone or iPod touch. Voice recordings can be made and broadcast in no time at all.
Some examples include:
Mash up with Google Maps using GPS.
Using microphone to broadcast recorded files as soon as recording is finished
      (Available for all versions of iPhone and second generations of iPod touch)
Take photos and instantly publish them to the world (Only available for iPhone)

Show your location on your blog. Post voice memos to twitter. All kinds of things are possible. All the user needs is an imagination.
5. File Viewer


File viewer displays various kinds of files saved to an iPhone or iPod touch. Unlike USB memory, data is visible, so a user can read a PDF or prepare for a presentation while traveling by car. Files can be physically controlled by touching or shaking the iPhone or iPod touch. Files can be shared directly with friends.
The following files can be opened and viewed.
・iWork(Pages、Numbers、Keynote)
・Microsoft Office(Word、Excel、PowerPoint)
・PDF
・HTML
・source codes(JavaScript, XML, CSS)
・log, video, audio, image
6. Simple.UI



"Simple UI makes full use of FreeBit's unique technology to realize a "Radically Simple User Experience". "The World's Simplest Server Setup" can be done without any need to read instructions.
    * World's First "5 Minutes Server Setup"
      It takes you only 5 minutes to complete registration, allocate a fixed IPv6 allocation to an iPhone, configure IPv6 routing, set filtering and register the host name (which determines the URL). This doesn't just allocate user space in the datacenter servers, but it actually assigns the iPhone to the cloud as a disk/web server.
    * ServersMan UI System
      Application UI and http://serversman.com/ provide incredible UI simplicity.
7. IPv6 Compatibility Based on Network Virtualization Technology
ServersMan utilizes FreeBit's unique network virtualization technology "Emotion Link Active Node". With this technology, ServersMan works as an autonomous node in the cloud networks since it contains virtual IPv6 address in its application. All IPv4/IPv6 conversion is conducted at http://serversman.com/ so that every ServersMan node can be easily switched into IPv6 native when IPv6 becomes the world standard. Every single user of ServersMan services are allocated /64 global IPv6 address, preparing for future demands.
See also:
source: www.Freebit.com