Crestron Makes Home Automation Easier with Pyng
Posted on: 8 December 2014
By:

chw staff
Crestron promse to make home automation setup and management easier with the new app Pyng. According to Crestron Pyng will sit at the heart of your home automation system. With it, home integrators can create lifestyle scenes for each room, schedule events, and much more right from an iPad. You whole home automation system can be ready in minutes without using any other programming application.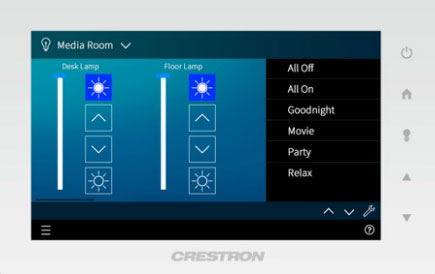 Crestron said Pyng will work with all their home automation solutions, by pairing Crestron Pyng accessories with the app. Accessories include Crestron wireless lighting controls, thermostats, as well as security systems and Yale wireless door locks, as well as security systems
"Pyng is home automation built from the app up," said Robin van Meeuwen, CEO at Crestron International. "With Pyng, you are not adding an app to your automation system. The app is your automation system."
A compact hub connects accessories with the app, runs scenes and events even without the presence of an iPad and continuously backs up all home settings to the cloud - so making changes is easy and secure. Once the initial set up is complete, anyone can easily modify settings or create new scenes right from the app. Adding a new iPhone or iPad is effortless. Simply open the app while connected to the home Wi-Finetwork and the controls appear instantly.
Crestron Pyng empowers homeowners to make changes to scenes and settings themselves with the confidence that their integrator can restore to an automatic cloud backup if they wish to undo any adjustments.
Any Crestron technology can be easily added to a Crestron Pyng system, including DigitalMedia, distributed audio and more. Crestron Pyng integrates seemlessly with the rest of the Crestron product line and enables the Crestron Pyng app to run right on a TSW touch screen.
Cloud Services
    Restore the system if the hub fails
    Revert to earlier settings if you don't like changes
    Monitor device status, such as "online" or "offline"
    Display logs of every load, device, and keypad button press
    Add new features or devices remotely
    Access, update, and support home systems from anywhere at any time
    Order custom engraving for keypads