D-Link Offers New StreamBoost 4 Gigabit Gaming Router
Posted on: 17 June 2013
By:

chw staff
Gamers are in for a treat with the soon release of the D-Link Gaming Router (DGL-5500). The router features Qualcomm StreamBoost technology, which help to intelligently manage and shape the traffic. Owners of role-playing games are expected see less lagging and see a boost performance.  The D-Link Gaming Router offers the latest in plus four-gigabit Ethernet ports to deliver the ultimate in gaming performance, media streaming and network control.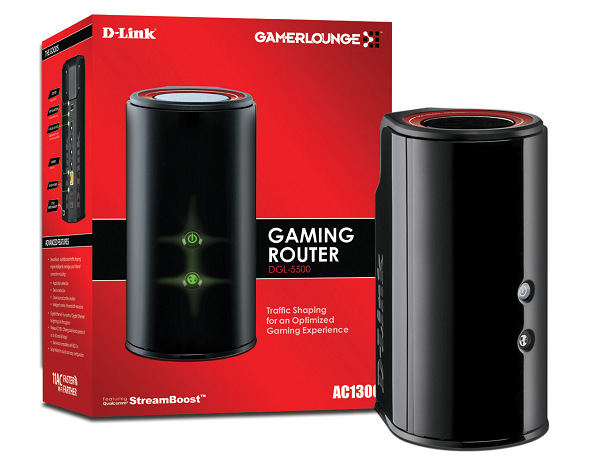 The router's StreamBoost interface is designed to allow users to view all computers, tablets, phones, and other connected devices on a home network, as well as the applications they are using and the real-time bandwidth usage of each. Gaming Router can prioritizes apps and games like Netflix, YouTube, StarCraft II, BitTorrent, VUDU and Pandora, as well as network devices with an easy-to-use user interface.
More about the Gaming Router (DGL-5500) The Gaming Router (DGL-5500) delivers the ultimate gaming-optimized network; highlights include:
AC 1300 wireless performance of up to 1300Mbps (867AC+450N), based on Qualcomm VIVE 802.11ac technology, designed for greater throughput range for all high demand wireless devices
StreamBoost engine intelligently allocates bandwidth for lag-free gaming, HD video streaming, and clear VoIP calls.
Out-of-box traffic shaping dynamically manages bandwidth with a sophisticated engine that is app and device aware to provide the best user experience to all connected devices
Cloud-based application profiling ensures the Gaming Router is constantly up-to-date as new apps and games are released for optimized performance
4 Gigabit LAN Ports offer blazing fast wired speeds for demanding applications
WPS Push Button offers simple, secure setup
Availability and Pricing:
The Gaming Router (DGL-5500) will shipping on August 1 for $199.99 however, serious gamers can pre-order at newegg.com or the D-Link Shop.