Freescale Offers Dual-Network Functionality for ZigBee Networks
Posted on: 8 October 2012
By:

admin
At this year's Metering, Billing/CRM Europe Freescale is showcasing a new generation of its Kinetis wireless solutions that offers dual-PAN (personal area network) functionality. The Kinetis KW20 wireless microcontrollers (KW21D256V, KW21D512V and KW22D512V) will allow a single device to seamlessly connect and actively participate in two separate networks.
As the deployment of IEEE 802.15.4 ZigBee networks continues to expand, multiple ZigBee networks (including ZigBee Home Automation, ZigBee RF4CE and ZigBee Smart Energy versions 1.x and 2.0) may exist simultaneously in a home or building with the Kinetis KW20 wireless microcontroller (MCU).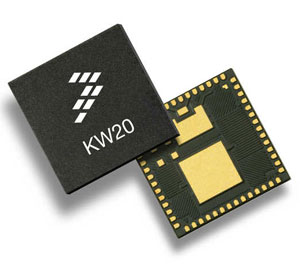 Built on the ARM Cortex-M4-technology; KW20 wireless MCU has up to 512 KB of flash and 64 KB of SRAM. That is enough memory to run both network protocol stacks on a single device, eliminating the need for a second MCU.
 
For ultimate flexibility, Freescale also offers an individual IEEE 802.15.4 radio transceiver (MC13242) with the same high-performance characteristic as the radio inside the KW20, including dual-PAN capability.
"Freescale recognizes the need to support multiple ZigBee networks and even different versions of protocols within a small area," said Bruno Baylac, director and general manager of Freescale's Metering, Medical & Connectivity business unit.
Freescale's hardware implementation offers a 5x performance improvement over software.  In addition, the KW20 can function as a coordinator, a router or an end device on each network. If both networks are operating on the same RF channel, then the KW20 can filter network information on the fly, eliminating the need to switch between networks.
"Freescale has a number of innovative ZigBee solutions and its dual-PAN feature in the Kinetis KW20 family is another great addition," said Bob Heile, chairman of the ZigBee Alliance. "With the growing demand for ZigBee Certified products, Freescale's KW20 will help meet this need."
General availability is expected in the first quarter of 2013.