Get BeoLink for Your Bang & Olufsen Master Link Gateway
Posted on: 13 April 2010
By:

chw staff

Bang and Olufsen, the developers of the Master Link Gateway home automation and control system has released a new application called BeoLink for the Apple iPad, iPhone and iPod touch. The new application is available as free download from the Apple App. Store.  Owners of the Master Link Gateway can now access and control all home systems accessible via the gateway from any of the three Apple products.
The BeoLink connects to the Master Link Gateway via Wi-Fi.  So if you are coming home, as soon as your iPhone or iPad is in range of your Wi-Fi you can start sending commands to your home automated systems, such as lights, gates, alarm and garage door.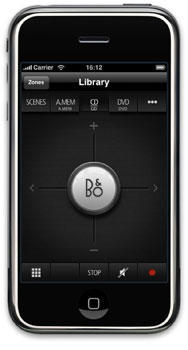 Zean Nielsen, President of Bang & Olufsen America, said "We are very happy to extend control of home automation and home entertainment via this simple application; giving customers greater freedom and convenience in their intelligent home fits hand-in-hand with Bang & Olufsen's ongoing philosophy that technology should be the servant of man, not the other way around."
The introduction of the BeoLink is part of Bang & Olufsen's plans to offer simplicity and ease of operation to its home automation and intelligent home solutions. Playing an integral part is the Master Link Gateway via which customers can control and operate all their home automation equipment as well as audio visual systems.  The convenience now offered through the iPhone and iPad is an addition to the Beo5 remote control and the Master Link Gateway panel.