Introducing Devolo Magic Powerline Eithernet Adapter
Posted on: 15 February 2021
By:

Chris Olsson
Many will have experiences where as we move away from our broadband router WiFi signal strength drop or just disconnects. Devolo is promising to change that with Devolo Magic Powerline Ethernet adapter with the combination of Mesh-WiFI and Powerline technology to create great product for the home that suffers from WiFi problem. Unlike previous Powerline product you have heard about the Devolo Magic goes a bit further with speed and flexibility.  Devolo Magic offers the best Mesh-WiFi convenience while using a new generation chip based on the G.hn architecture for the Powerline segment.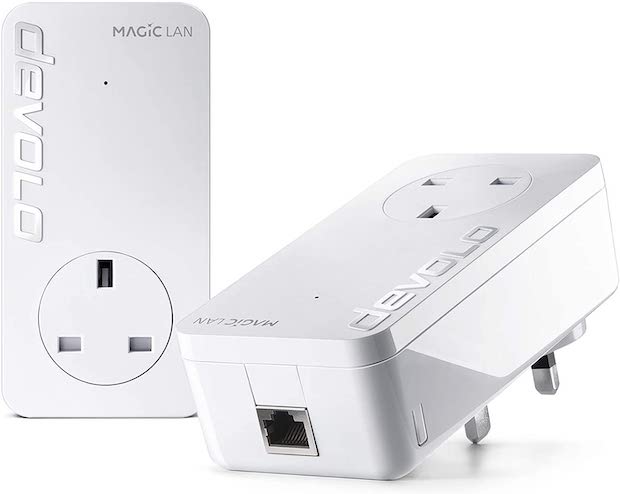 Instead of the 1,200 Mbps offered by some adapters, these high-end adapters provide data rates up to 2,400 Mbps. Currently, this makes them some of the fastest Powerline products on the market, giving customers the best possible user experience for all of today's multimedia applications. And that's not all: Because Devolo Magic provides resources enough to run the entertainment of tomorrow's connected home. These products make it possible to transmit multiple 4K—or even 8K—videos throughout the home, simultaneously and flawlessly (depending on your subscribed broadband speed).
The Devolo Magic adapters can handle line lengths up to 500 metres, allowing them to easily convert any power socket into a high-speed Internet access point.  There are three magic adapters on the market so check before you pay: Devolo Magic 1, Devolo Magic 2 and Devolo Magic 2 WiFi next. All are available in LAN and WiFi versions.
All Devolo Magic series WiFi adapters offer top-level Mesh-WiFi. And they're equipped with completely new and improved WiFi functions. "Fast Roaming" ensures all WiFi clients, such as smartphones and tablets, are always connected to the strongest WiFi hotspot. This is especially important when people move from room to room with their mobile devices.
"Config Sync" allows the router's WiFi configuration data to be transferred with ease to all WiFi access points (single SSID). In addition, the new "Airtime Fairness" feature processes the requests of fast WiFi clients at higher priority. This prevents older devices, which may require more time for a download, from creating WiFi bottlenecks. Integrated "Band Steering" ensures that all WiFi clients are automatically assigned to the best wireless channel and the optimum frequency. Devolo Magic automatically makes all Mesh-WiFi functions available to its users.
The entry-level model of the new product line is the Devolo Magic 1, with a bandwidth up to 1,200 Mbps over Powerline. Like its "big brother", the Devolo Magic 1 WiFi model is also equipped with two Ethernet LAN ports as well as fast WiFi ac with Mesh functionality. Devolo Magic 1 LAN offers one fast gigabit port for high-speed Internet connections.
The high-end model, Devolo Magic 2 WiFi, is equipped with two gigabit LAN ports and fast WiFi ac with Mesh functionality. Devolo Magic 2 LAN offers one gigabit port for connecting smart TVs, streaming boxes or gaming consoles to the network with an Ethernet cable. Both Devolo Magic 2 models run at a maximum speed up to 2,400 Mbps on the Powerline leg.
The Devolo Magic 2 WiFi next offers Multi-User MIMO (MU-MIMO) to ensure even better WiFi performance with the new Devolo Magic 2 WiFi next. The technology makes it possible to supply multiple devices with the optimal transmission capacity simultaneously. For example, when the new series in 4K or the new documentary in 8K is being streamed in the living room, someone can be playing online on a tablet, while someone else is having a video call in the home office. MU-MIMO controls WiFi data streams efficiently in a fully automated process.
Reliably secure: WPA3
Thanks to WPA3, the WiFi established by Devolo devices is extremely secure. The current security standard of the WiFi Alliance is based on the WPA2 protocol and thanks to improved 128-bit encryption, offers strong protection against unwanted access. At the same time, it makes connecting new devices in the home network easier. This also requires that the WiFi clients support WPA3 encryption. WPA2 protection remains available for all other clients, and a mixed mode that combines WPA3 and WPA2 is also possible.
Plug & play with auto-pairing
Installing the Devolo Magic 2 WiFi next adapters is extremely easy: Plug in one adapter, connect it with the router via Ethernet cable, plug the second adapter in within the next two minutes – and both adapters pair to each other automatically without having to push a single button. In this process, they exchange an individualised security ID so that the data connection over the electrical wiring remains protected. Additionally, users can be guided step by step through the set-up of the Devolo Home Network using the installation wizard.
Easy installation and greater convenience
Installation of the Devolo Magic adapters has never been so easy. Once you've plugged in the first adapter, all other adapters which are plugged in within the next two minutes are automatically paired; you don't need to press any other buttons. Subsequently, each power socket is equipped with a fast and individually encrypted Internet connection. The browser-based Devolo Cockpit software is free of charge and can be used for further configuration.
The network can also be intuitively controlled using the Devolo Home Network App. No matter whether additional adapters are to be integrated into the network, or if guest accounts or parental controls are to be set up: All configurations can be set in seconds without expert knowledge. Devolo is continually developing the Home Network App and is adding new functions in free updates. The Devolo Cockpit software as well as the web interface will also be available for easy operation in future.
They have also rolled out a Dynamic Interference Mitigation (DIM) firmware update for the Magic LAN.