Introducing Veego the Connected Home AI Solution for ISP
Posted on: 9 May 2020
By:

Emma Thompson
The connected home with its mixture of devices is a complicated place for the knowhows, but a nightmare for those who don't have the slightest idea of how to troubleshoot problems when things go wrong.  According to one company this will be a thing of the past.  They making bold promises about fixing many of the issues in the connected home by making it an autonomous environment. Over the last two years Veego, a connected home startup based in Israel have been touting their Veego software to ISPs around the globe in an effort to help them support their connected home customers.  According to Veego, the software they are offering can autonomously resolve connected home devices malfunctions, through the use of their suite of applications supported by an AI backend in the cloud, that is able to identify problems before they are reported.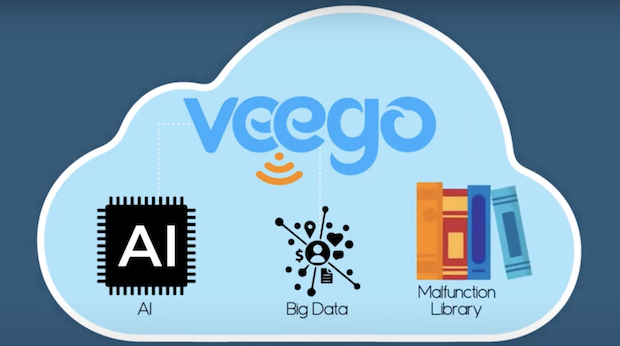 Co-Founded by CEO Amir Kotler, the company was launched in 2018 and is back by venture capitalists Robert Bosch Venture Capital GmbH (RBVC), the venture arm of the Bosch Group, State of Mind Ventures (SOMV) and North First Ventures (N1V), who did the seed funding last year.  The VCs invested $5M to boosts product development and market presence.  They also form Veego's board of directors.
This year Veego announced that Amdocs, a software and services provider to the communication industry, as an investing and strategic partner, and a member of Veego's board of directors. According to Veego, as part of the partnership Amdocs will adapt the Veego technology to offer combined solutions for customer care and user experience to major internet service providers globally.
Veego said, they are already involved in several lab trials with major ISPs, and working with Amdocs, they will provide integrated solutions to enhance smart care in the home.
Veego is promising to change the way the connected home and its devices are supported.  Unlike any other sector, the connected home users independently buy and install their own types of smart devices to consume a wide variety of services, mainly through their internet routers.  According to Veego, "when smart devices and services do not function efficiently, residential users become frustrated and turn to their Internet Service Providers (ISPs) for help".
These malfunctions, they think can occur because of many reasons and with the ISP not knowing the devices in a customer's home they are left blind to troubleshoot the problem. Not anymore said Veego, because with their suite of applications, they giving eyes to ISPs, enabling them to see what is going on in the connected home, drastically improving their support capability of millions of subscribers and reducing OPEX on customer care.
To achieve this level of visibility, the ISP router will have to run the Veego Agent, (called "Veego scope") it will scope the home to identify connected-devices and create a topology of the home connected solutions.  "This scoping information is stored in the Veego Cloud where it may be accessed via the Veego Console or the ISP backend systems for demographics and many other data-analysis purposes".
With the Veego agent constantly running in the background the ISP now has an idea of what devices a particular customer is using and what services (gaming, browsing, streaming, etc) that these devices provide.
Veego doesn't stop there, it offers what it calls "Veego Self-Care"; a service backed by another bold promise, "that they have been able to developed a connected home solution that automatically detect and repair smart home problems". Working in real time it detects problems being encounter by the customer/device, it analysed those problems and then resolve them automatically.
For those problems where there are no auto-resolution, Veego Self-Care sends brief and helpful messages via the Veego App, about the problem and a solution that the customer can execute themselves.  These messages can also be forwarded to the ISP Customer Care Centre to be forwarded to the customer via the ISP's app, Chatbots, voice assistants, or other media.
Then there is "Veego Smart-Care" for the ISP Customer Care Centre. This service is hooked into Veego's AI Cloud, which according to Veego hosts its unique Global Malfunction Signature Library and other innovative technologies that improves the services that customer care representatives can offer customers. The Veego Smart-Care service allows the customer care representative to have at their disposal a complete analysis and location of the problem along with working suggestions for resolution of the problem. With this type of information and being so easily accessible, "truck rolls are reduced by 25%, and unnecessary hardware exchanges are eliminated", said Veego. 
Veego Smart-Care is complemented by another component "Veego Operations" to support ISP Operations Departments. Based on the wealth of information being provided by Veego agent to the Veego Cloud, ISP Operations Departments get deep insights into the experiences subscribers are having in their connected homes.
Veego Home Scoring grades every home's quality of experience (QoE) at every moment, providing Internet Service Providers (ISPs) with a clear measure of the overall service level. With the real-time Home Score, ISPs can quickly understand the QoE in each home and can flexibly aggregate homes by device types, services, neighbourhoods and other attributes.
The overall Home Score comprises dozens of parameters collected from the entire service delivery chain – all the way from the cloud servers, through the WAN (internet), into the home via the router, throughout the home via the WiFi, and to the devices themselves. Home Scoring is uniquely context-aware, taking into account not only device capabilities and the quality of their connectivity, but also the services that users are currently consuming and the specific demands of those services, including bandwidth, latency, packet loss and more. The Home Score also considers transient connected activities occurring in the home at any moment.
Veego gives ISP the opportunity and tool to upsell via Veego Upsell.  Utilizing information gathered about each home and the devices it has Veego Upsell creates automatic recommendation alerts for support representatives, updating them when a subscriber is likely to buy relevant products or services that the ISP wants to sell.