Lantiq Launces Home Gateway Processor with Enterprise Class Technology
Posted on: 16 March 2015
By:

chw staff
Lantig's new GRX350 Processor comes pack full of features for today's digital home.  These include True Quality of Service (TrueQoS), Trusted Execution Processor (TrustWorld) and hardware-enforced virtualization.  With its carrier-class network processing power, the GRX350 has the capability to manage the millions of packets from both wired and wireless devices.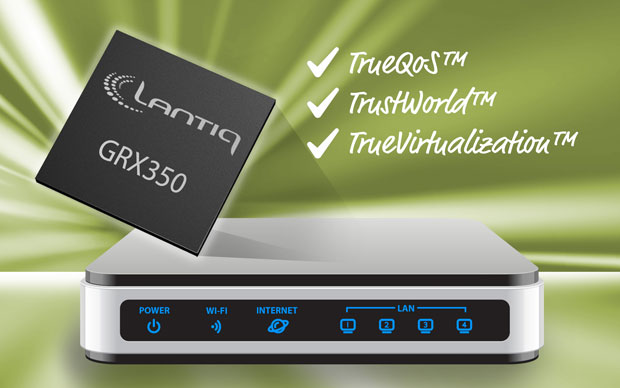 Lantiq said the new architecture will benefit OEMs creating the next generation of multi-service gateways. The Lantiq GRX350 processor can manage multiple Gigabits of incoming data streams from interfaces, like G.fast, GPON, Gigabit Ethernet WAN, VDSL2 or hybrid access network approaches such as DSLTE (DSL + LTE)
The MIPS based GRX350 network processor integrates carrier grade edge router features into its advanced home gateway architecture, which includes multiple CPUs, Gigabit switch with integrated GPHYs, 3x3 Wi-Fi, Voice and DECT telephony. Following Lantiq's AnyWAN concept, the chipset effortlessly handles any kind of wide-area-network (WAN) connectivity including the new G.fast standard.
In a first for home gateway network processors, Lantiq applies TrueQoS with hardware acceleration to all downstream and upstream data traffic, using full packet classification and bandwidth protection to assure the best possible customer experience.
Its virtualization isolates concurrent applications so that networking functionality executes separately, allowing developers to shortened test time and time to market of new applications.
"The new Lantiq GRX350 Network Processor opens the door to previously unavailable levels of service quality in broadband home networking. With Lantiq TrueQoS, customers get the service they want at the quality they want", said Rainer Spielberg, Lantiq's VP and Head of the Residential Gateway Solutions Business Line.
Another benefit of the GRX350 processor is it's "the most secure gateways ever available for home networks", with a dedicated security core.
"We believe these unique features will be the heart of the true digital home", said Spielberg.