The Latest And Best NAS Drive For Home Data Storage
Posted on: 26 May 2013
By:

Patrick Oliphant

NAS (Network Attached Storage) drives have grown in space, functions and features over the last couple of years.  It is no longer only for business use, A NAS is now an essential digital storage device for homes. USB sticks, CDs and DVDs are too small for the amount of data we want to store and they lack the features that make a NAS more convenient.
A NAS comes in very handy when many of the movies can be downloaded to access later; in addition, we take more photos and create more videos than we use to. Here are ten NAS drives I have found that will fit any budget, space required and feature you may need from home or your home office.
Iomega StorCenter px2-300d and StorCenter ix4-300d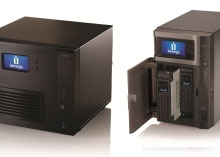 The StorCenter offers up to 6TB of storage space for a standard home this should be enough to last for a while.  It has the usual NAS features like RAID data protection, media sharing, hot swappable drives (only with px2300d) and cloud backup.  There are other features but they are more suited for business, except for the McAfee virus scan, which would come in useful.
It has built in cloud replication technology for EMC atmos and EMC Avantor, Mozy pro and Iomega Personal Cloud technology. In addition to the fully populated options utilizing 1TB, 2TB and 3TB enterprise grade 7200rpm disk for the  px2-300d, and 1TB, 2TB and 3TB SATA II drives for the ix4-300d, both product lines also offer diskless models allowing users to use their own HDDs. Get yours from amazon.com
D-Link Cloud Storage 4000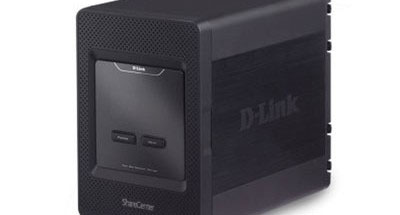 The 4-Bay D-Link Cloud Storage 4000 (DNS-345) is a good starter NAS for the home or home office. It was built around the home user offering easy access and management. With its cloud storage feature you get access to the D-Link Cloud portal with the <mydlink> cloud app.  Through it you can remotely access your files and share them with others and stream videos and music.
With up to 16TB of storage the DNS-345 can work with D-Link's Cloud Cameras to offer full-featured network video recording plus full-automated backup.  There is a Built-in Web Files server and secure FTP services over the internet.
LaCie 2big NAS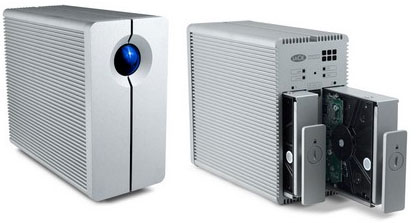 LiCie is pushing this one as a small business NAS but looking at the space – 6TB and price (187) it could also go in your home.  It offers remote access but no cloud storage. It delivers enough storage capacity and bandwidth to backup multiple workstations, share large files and work on projects concurrently. Get it from amazon.com
The LaCie 2big ensures a complete backup of any Linux, PC or Mac, you can choose Apple Time Machine, Windows 7 Backup Software or LaCie's own backup software.
QNAP TS-x69L Turbo NAS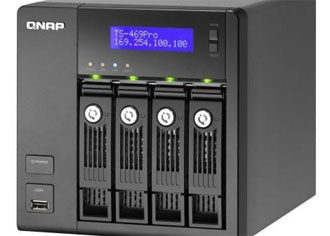 QNAP is a big name in NAS drives and anyone looking for a NAS would come across the name.  One of their latest is the TS-x Series. There are six models to choose from, starting from the personal 2-drive TS-269L up to the commercial 8-drive TS-869L.  The TS-x69L Turbo NAS Series is pitch at the commercial user, so therefore it comes with a high price tag. It is pack with enterprise software support so if you want it for home use you not benefit fully from all its features.
I would recommend the TS-x69 for professionals who need a higher level of data security and integration. With the TS-x69 you can schedule data backup to the cloud-base data storage such as Amazon S3, ElephantDrive and Symform. Available at amazon.com
D-Link Cloud Storage 2000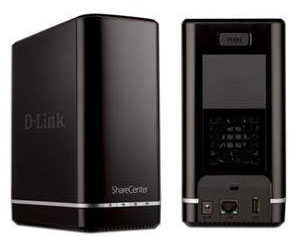 At about half the price of the DNS-345 the Cloud Storage 2000 (DNS-320L) offers the same features and functions and replaces the DNS-320. This new model comes with a faster processor and a Gigabit Ethernet for faster data transfer. It allows for multiple user streams simultaneously and does not require any tools for installation.
Geared towards home use it has many tools that will help you the manage your data, such as Photo Center which allows you to create photo albums, view images as slide show. You can share images via email, Cooliris and post to your Picasa web album.
It has its own DLNA server to stream music, photos, and videos to DLNA compatible Media Players such as Boxee Box, Playstaton 3 and Xbox 360. It supports PC backup, Apple Time Machine Backup, USB Backup and Cloud Backup to Amazon S3. Available at amazon.com
Seagate Goflex Home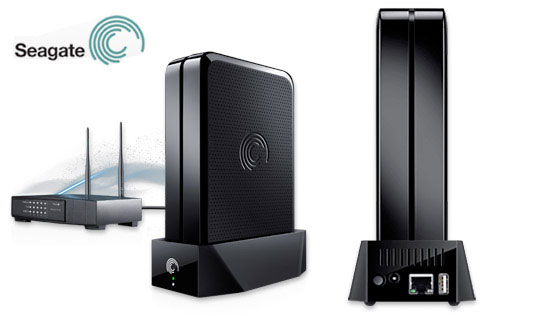 Seagate offers three NAS models for home use, the Satellite and GoFlex Home offering space of 1-3TB and 2-4TB. Compatible with Mac, PC and the GoFlex TV HD media player they are small and convenient storage solutions, they can be access wirelessly to stream your music, photos and videos
In addition, you can share a USB printer with every computer in the home simply by connecting to the USB port on the GoFlex Home network storage system, or you can plug a USB drive into the port to increase storage capacity. Available at amazon.com
Drobo 5N, 5D and Mini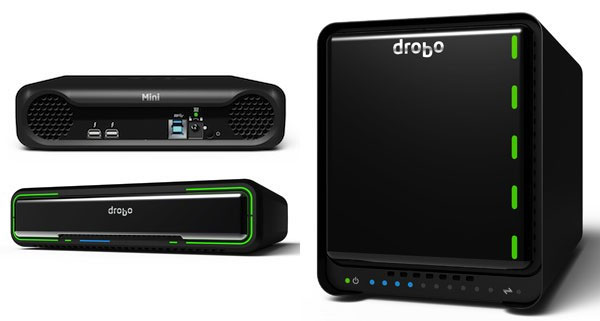 The Drobo 5N is the high-end model for home users, also available are the Drobo 5D and Drobo Mini. The Drobo 5N/5D can store up to Maximum capacity 20 Terabytes (TB) and Drobo Mini can carry up to 3TB.
The hardware capacity of the Drobo is like the others however; it is their storage technologies that have distinguish them from others. Drobo's offers their patented BeyondRAID solution that make RAID easier and their Data-Aware Tiering technology, which intelligently uses the high-performance flash in SSDs to accelerate performance of the storage array.
Drobo doesn't just protect you from a drive failure, but also from potential data loss after a power outage. Each Drobo has an inbuilt battery that protects all data in memory so if power goes your data is save to disk.
Unlike the 5N the Drobo 5D supports *Thunderbolt I/O technology, each 5D has dual Thunderbolt ports for daisy chaining allowing you to connect up to six Drobo 5D arrays in a chain. Available at amazon.com
Buffalo LinkStation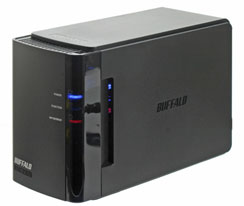 The Buffalo LinkStation family is an ideal NAS solution for the home. The V-Series are not the cheapest on the market with the line consisting of LinkStation Pro, LinkStation Pro Duo and LinkStation Pro Quad.
Buffalo offers a free downloadable Apps, the "WebAccess i app" for Apple's iPod touch and iPhone and "WebAccess i HD App" for iPad. The apps provide iPhone and iPad users and easy and convenient way to access and stream files to and from the LinkStation.
Like the other NASs the LinkSation is DLNA certified and allows compatible devices to access it as a storage/media server. available at amazon.com
Synology DiskSation DSx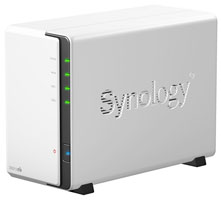 Synology has one of the widest ranges of NAS for home users, varying in storage space and feature. So, depending on your needs, there is a DiskStation that could work for you. The range varies between the budget-friendly 2-bay NAS server dedicated to backup and data sharing for home to more advance solution with their own web server.
The range also has the speed to match, offering read and writes speeds of over 100MB/sec and 70MB/sec respectively (depending on model). Thus, allowing for quick download of Blu-ray quality movies and large files.
On the DiskStation you can have your own web server, print server, media server, iTune server and much more. Available at amazon.com
Netgear ReadyNAS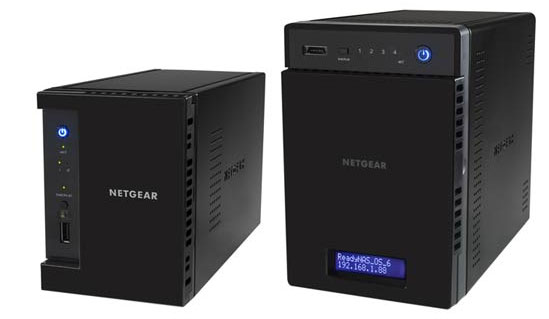 The Netgear ReadyNAS 100, 300, 500 and 2120 are now on a new operating system version 6. The entry level ReadyNAS 100 Series (RN102xx, RN104xx) is designed for home use, and comes in two-bay and four-bay models that are offered as either diskless or populated with drives.
Also available for the ReadyNAS are a suite of downloadable applications from genie marketplace, which offer easy-to-use solutions for centralizing, securing, and controlling access to digital assets.
Every NAS device in the new ReadyNAS Series supports SATA (up to 4TB) and SSD drives. ReadyNAS 300 and 500 models include an eSATA expansion port for scaling capacity as the storage needs grow.
Each ReadyNAS features advanced on-box data protection in the form of unlimited snapshot capability, cloud-managed replication, and XRAID automatic volume expansion.
*currently only supported by Apple Mac available at amazon.com