LUCIS Is Now Shipping Smart Home Console, NuBryte Touchpoint
Posted on: 6 February 2016
By:

Patrick Oliphant
If you were at this year's  CES and visited the connected home section you would have seen this new connected home solution from Lucis Technologies.  Only available in the U.S. at the moment, the NuBryte smart home console offers a range of connected home services, such as home security, Intercom and automated lighting.  NuBryte also has an accompanying iPhone app that extends its functionality to your phone for ease of use.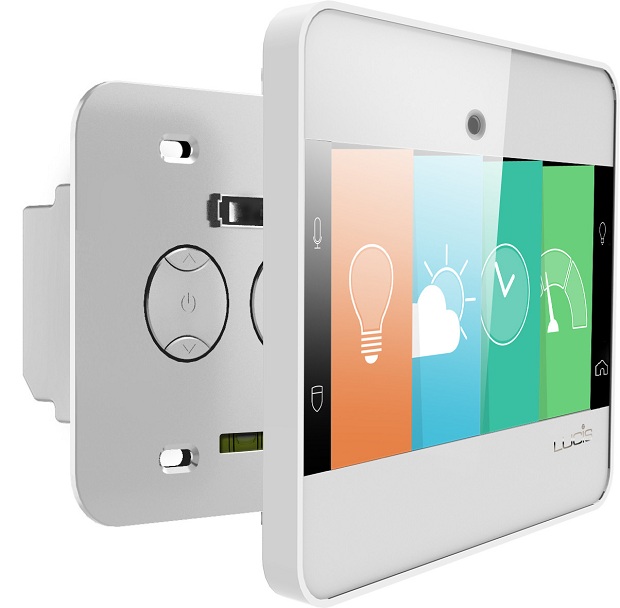 The NuBryte smart home console offers advance home automation to the DIY enthusiast and those who wants to dip their toe into the connected home pool. For a one of spend there is the NuBryte Touchpoint – Double Switch and Single Switch costing $229 and $199 repectively.
You can use the NuBryte to replace your current wall switches, so rather than a simple on and off you will be able to do more from the NuBryte.  It is compatible with standard dimmable LED, CFL and even incandescent light bulbs, also provides easy-to-understand energy reporting to help you reduce your energy use and save money.
The NuBryte is fitted with motion sensing that not only work as a security feature but in case you or your child forget to turn off a room light its motion sensing mode will turn if off automatically.
According to Lucis, the NuBryte smart home console was designed to make lives easier, not complicate them; with busy families in mind.
NuBryte Smart Home Console Features:
Morning Light:  Having a hard time waking up in the morning? You can gradually brighten your bedroom lights at your scheduled wake-up time!
Vacation Lights:  Use lighting to make it look like you're at home even when you're not. Set the days you'll be away and NuBryte will turn the lights on and off to make it look like someone is at home.
Welcome Light:  Going in and out of all the rooms in your house? Save time (and energy) with the ability to turn lights on and off automatically as you move from room to room.
Night Light:  Have a little one that is waking up in the middle of the night? No need to turn on a bright light. You can set your lights to a motion sensor to provide a gentle light when you move around in the middle of the night.
Easy-Off:  Did your kids leave the lights on in their bedroom again? If a room is not being used, NuBryte will turn the lights off for you.  Saving energy…and disagreements with your teen!
Remote Lighting Control:  Manage your home's lighting preferences from anywhere in your home…and even while you're away with the NuBryte mobile App.
Complete-home Control:  Tired of having to go back upstairs to check if you left your bathroom light on again? Any of your home's NuBryte consoles can control the connected lights in the home by using the nearest NuBryte Touchpoint or the mobile App.
Bedtime:  Gradually dim your lights as you get ready for bed. A perfect way to send a signal to your body – or your kiddos – that it's time to go to sleep.