New Wireless 802.11N Adapter From TiVo
Posted on: 26 April 2010
By:

chw staff

TiVo today announced a new wireless adapter for in home wireless transfer of digital data.  The new Wireless N Adapter works with TiVo Premiere, TiVo HD, TiVo Series3 HD or TiVo Series2 dual-tuner DVRs. Anyone who hasn't got the network to move their media content around can use this adapter. To take advantage of your mobile features with TiVoToGo the adapter lets you easily transfer recordings to a laptop, iPhone or other portable devices.
According to Jim Denney, "The Wireless N Adapter takes your TiVo DVR broadband experience up a notch, making moving content within the home both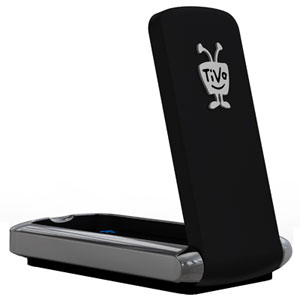 faster and more convenient."
This is TiVo first adapter that is compatible with the 802.11n standard.  This is the latest and fastest rate available. According to TiVo the adapter is relatively easy to configure and features a simple push button configuration.
"We've offered a Wireless G Adapter for many years, but just as Premiere was our first step in the next evolution of the DVR, we wanted to upgrade our total offering with the addition of a new Wireless N Adapter focused on speed and performance. We'll continue to release accessories and features that further improve the overall customer experience, leaving the competition behind." Said Jim Denney.