Onkyo Releases Advanced Networking Home Theater AV Receivers
Posted on: 10 February 2011
By:

chw staff
The new 7.2 Channel TX-NR609 and 5.1 Channel TX-NR509 AV Receivers features the latest in networking capability available to home entertainment systems, although being class as entry-level.  The AV Receivers boost support for DLNA, Wireless, Windows 7, Internet Radio and remote App control from Onkyo App for iPhone and iPod. The other new model is the TX-SR309, it is the only one of the three that does not support Networking.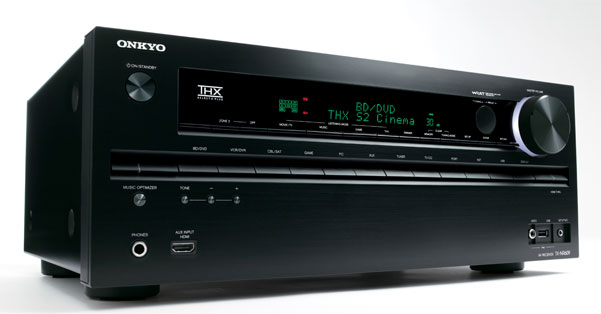 click here for back image
These three AV Receivers are down from the other higher "TX-NR" range which offers more in terms of connection,power and higher channel surround sound, with the closest being the TX-NR609 which is almost like the TX-NR708. The others like the TX-SR309 just offers Onkyo's proprietary advanced music optimizer and gaming audio modes.
The TX-NR609 offers extra connectivity like Powered Zone 2, which lets you play a different audio source in a second room equipped with stereo speakers; PC-compatible analog RGB video input—ideal for gamers and fans of PC-based media and allows you to send the video signal from a notebook or desktop PC directly to the receiver; supports decoding for Audyssey DSX™ and Dolby® Pro Logic® IIz.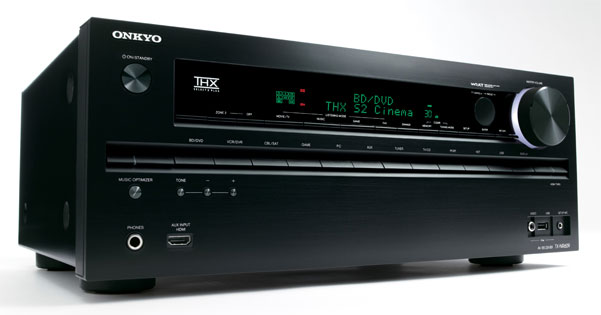 click here for back image
The TX-NR609 incorporates a suite of Audyssey technologies—2EQ®, Dynamic Volume®, and Dynamic EQ®—to simplify set-up, and a new overlaid graphical GUI for in-session adjustments to settings.
Coming with these models is an IEEE 802.11b/g/n compatible UWF-1 Wireless USB Adapter*, for streaming music around the home.  Additional connectivity includes using the same front USB port for external storage devices, HDMI with support (the TX-NR609 has six HDMI port) for 3D video, HDMI Thru, and an Audio Return Channel.  The latter allows audio content received via an HDTV's tuner to be sent upstream via HDMI to the receiver, without the need for an extra cable from the display.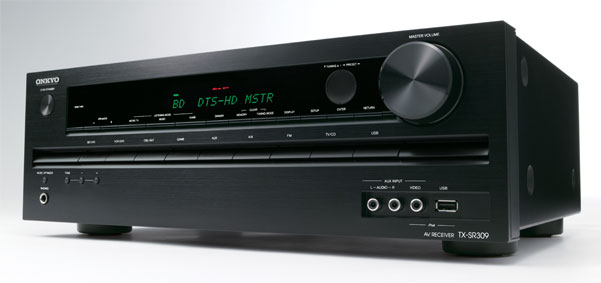 click here for back image
Other features shared by these models include PLL jitter-cleaning circuitry to preserve signal clarity; lossless Dolby® TrueHD and DTS-HD Master Audio™ decoding; an overlaid on-screen display for easy adjustment of settings; and a new front panel design.
The TX-NR609 and TX-SR309 are for users do not need the 4K video up-scaling; Audyssey DSX and Dolby Pro Logic IIz but still need something that is modern, affordable and enhances the home theater entertainment experience.
* compatible with all Onkyo network-capable receivers with USB this year 2011.