Start Your Own Connected Home with Lutron Smart Bridge
Posted on: 16 June 2014
By:

chw staff
If you are a fan of Lutron products or you are looking for a DIY connected home solution then these recent releases from Lutron should be right up your street. They have just released the Lutron App for Apple iOS and Google Android devices – phone and tablets. Also there is the Lutron Smart Gridge, a wireless device that can control your other Lutron and third-party connected devices.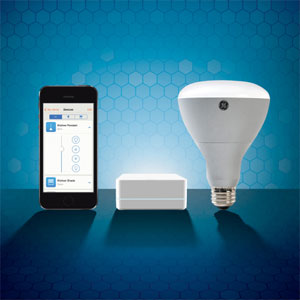 The Lutron Smart Gridge and software application that connects Lutron's Caséta Wireless dimmers, Pico remote controls, Serena remote-controlled shades.  With the Caséta Wireless system, you have the ability to control lights and shades inside or outside the home — either from a remote control or the new Lutron app.
Using Lutron's proprietary ClearConnect Wireless technology, the Smart Bridge connects directly into your home's Wi-Fi router; it then sends wireless, radio frequency (RF) communication signals to compatible Lutron devices inside the home. Installation and setup can take less than 30 minutes.
"This new solution gives consumers the opportunity to transform their homes quickly, easily and affordably into a smart and connected one," said Matt Swatsky, Caséta Wireless product manager at Lutron. "With the Lutron Smart Bridge and app, we are not just giving them the ability to control their lights and shades, but rather, a reliable, energy saving, long-term investment that also provides peace of mind."
For those wanting to install the smart bridge themselves will have to wait until September suggest price is $150, however, the Lutron Smart Bridge Pro will be available from June 30 at your local electricians, residential system providers, security professionals and lighting showrooms.  The Lutron Caséta Wireless package, featuring a Pico remote control with a dimmer (either wall or lamp), has a suggested list price of $80 and is available now.