Upgrade Your Home Network Router To Netgear Nighthawk X6
Posted on: 3 July 2014
By:

chw staff
Whenever we buy a router, we don't bother to trouble or think about it unless our broadband connection goes down or the router itself is dead; this is something I am guilty of. I recently upgraded my home router after having the previous one for over ten years – wasn't wireless. The release of the new Nighthawk X6 AC3200 Tri-Band WiFi Router (R8000) from Netgear I think is an ideal router for those with an old router and a mixture of new and old wireless devices in their home. It features the latest in high-speed wireless networking.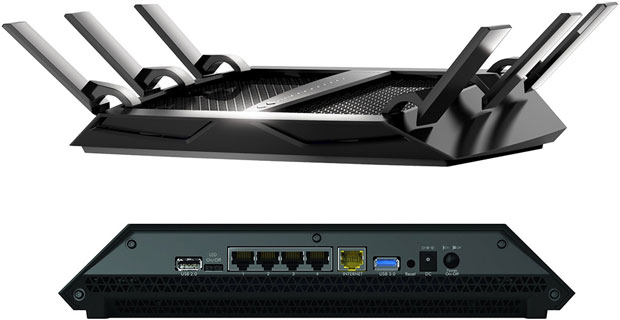 The Nighthawk x6 has six high-performance antennas and three network bands, one 2.4GHz and two 5GHz, which delivers combined WiFi speed of up to 3.2 Gbps. In addition to the speed, what differentiates the Nighthawk X6 from your old router is its ability to segment the network traffic.
It can offer new wireless devices optimal network bandwidth and at the same time is backward compatible with your older devices. This network load balancing and segmentation enables the X6 to mitigate interference and more effectively support all Wi-Fi devices, including more "Internet of Things" (IoT) devices.
According to Netgear a typical dual band router will "time-share" your video streaming and Internet gaming traffic on the one 5GHz band. However, With the Nighthawk X6 Tri-Band Router, video streaming and Internet gaming traffic can each operate on separate 5GHz bands so that each of them gets double the speed of a dual band router.
The Nighthawk X6 supports NETGEAR Beamforming+, a smart, signal-focusing technology that improves Wi-Fi connections. It improves wireless connections by locking onto a wireless device  and as you move, Beamforming+ adjusts for distance, delivering the best experience for fast downloads, uninterrupted HD video streaming, clearer Voice over Internet (VoIP) calls and lag-free gaming.
Nighthawk X6 offers superior capabilities for sharing, storing and securing your content. You can attach a storage device with your files and multimedia content to the Nighthawk X6's SuperSpeed USB 3.0 port (there is a USB 2.0 port).  It's an ideal router for streaming video content to screens around the home to devices that are DLNA or AirPlay compatible.
Your content will also be kept safe with NETGEAR ReadySHARE Vault, a free application software that takes automatic backup of incremental changes on all PCs in your home network and saves them to a USB hard drive connected to the Nighthawk X6.
The NETGEAR Nighthawk router also offers VPN support so you can securely access your files from remote locations away from your home using a customized free URL.