BeON Home Introduces a Safer and Smarter Home Light Bulb
Posted on: 20 October 2015
By:

chw staff
BeON Home, creator of the first Bluetooth Smart-based home protection system has announced that its smart modules and LED light bulbs are now available for order and beginning to ship to homes across North America.  The BeON home protection system takes a new approach to home security and safety that uses smart modules, hidden inside LED light bulbs, which provide safety lighting in emergency and power outage situations and proactive home security by making it look like you're home, even when you're not.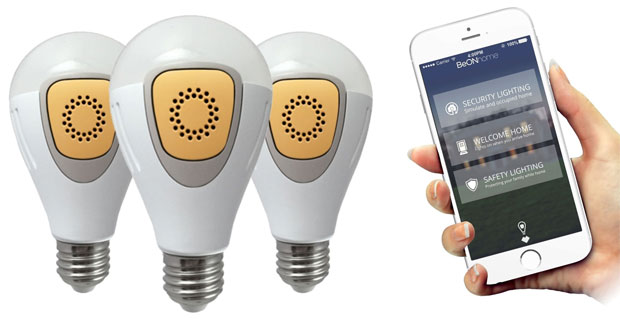 What is the BeON home protection solution?
With rechargeable batteries built in, the BeON modules provide power for backup lighting during a power outage. The smart modules also hear fire or carbon monoxide alarms and turn on the BeON bulbs for instant exit lighting so that your family can escape.
BeON bulbs also slowly fade off so you're never left in the dark as you navigate a room or go up or down the stairs. With the "welcome home" feature, you can turn on the lights in your home from your driveway with one touch, so you never have to walk into a dark house.
Since intruders prefer unoccupied homes, the BeON smart modules automatically learn your family's everyday lighting patterns and then replay them while you're away to make it look like you're home. If a would-be intruder checks to see if you're home by ringing the doorbell, the BeON smart modules hear the doorbell and turn lights on sequentially as if you are awakening and moving throughout the house.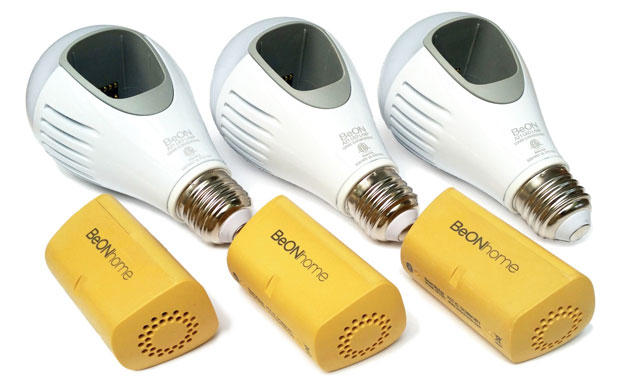 How does it work? 
After screwing the light bulbs into your desired lamps or recessed lights, the BeON system goes into action, quietly learning your lighting patterns. To ensure privacy, the BeON bulbs communicate with each other and the mobile app locally using Bluetooth Smart.
The BeON system is the first home safety and security product actively using CSRmesh, a flood mesh solution based on Qualcomm Technologies' proven Bluetooth Smart technology, to carry alarm notifications and messages through a network of multiple bulbs without the need for a hub or router.
"We are thrilled that the BeON system is using CSRmesh technology to enable a seamless and secure home automation solution that truly meets consumer's needs," said Anthony Murray, senior vice president and general manager, IoE, Qualcomm Technologies International Ltd.
"Today, we are excited to be shipping a solution that makes home protection accessible for anyone and improves the security and safety of your home with a practical, affordable and easy-to-use system," saidAlexei Erchak, CEO and cofounder of BeON Home. "At BeON, we believe that as technology evolves it should become more intuitive. We should have more natural interaction with our tech, allowing us to go about our daily routines with ease".
BeON's smart modules receive firmware updates to unlock new features as they are released. BeON Home is also developing new smart modules and accessories that will expand the system and provide additional safety and security in your home.
"Right now, your home is the only place without emergency lighting – you have it in schools, stores, and offices – literally everywhere except where you need it most," added Erchak.
Compatibility/Pricing/Availability 
The BeON Home Protection System is now available at www.beonhome.com and through select security dealers. The BeON system is $199.00 and comes with three smart modules and three LED light bulbs as well as the free mobile app. Additional BeON bulbs and modules are available for $75.00 each and can be easily added to the system for larger homes and more protection. The mobile app is currently available for iOS and will soon be made available for Android.