Choosing a Powerline Ethernet Adapter for Home
Posted on: 31 August 2014
By:

Patrick Oliphant
The use of Powerline Ethernet Adapter has grown over the last couple of years. The technology has also grown to become a suitable alternative to wireless in the home.  Unlike wireless, Powerline Ethernet Adapters are flexible, accessible, user friendly while maintaining the same data transfer rate.  Some Powerline Ethernet Adapters even go a bit further by offering wireless access. With powerline networking, any wall outlet can be turned into an Internet access point with a fast, reliable online connection.
If within your home your wireless access sometimes drop for no apparent reason or the signal strength is low or none existent in some areas, then a Powerline Ethernet Adapter is an excellent alternative.  You can get Powerline Ethernet that offers data access rate of up to 1000 Mbps (1Gbps) throughout your home; enough speed to provide good internet speed to the whole home.
The adapters are based on the HomePlug AV2 standard, which supports gigabit powerline speeds. They also provide backwards compatibility to devices based on HomePlug AV and IEEE 1901.
How does it work? Powerline Ethernet works in an ingenious way by sending your data over the electric powerline in your home. There is no need to worry that your data will be seen by your neighbours, because it will not go outside your home.  As a minimum you will need two adapters (see setup diagram) one to sit next to your broadband router the other you can put where ever you will need access to the internet.
Which Powerline Ethernet Adapter should you buy? There are two types; those that are Homeplug AV compatible and those that are not.  Those that are AV/AV2 compatible like the dLAN 1200+ WiFi ac Powerline AV2 Adapter;  it can be use for both simple data connection and your Hi-Fi system that can be network, check that it is Homplug AV/AV2 certified.  Those that are Homepug AV certified can also be used to subscribe to HD on-demand services over the web, because they offer faster data transfer rate.  The others that are not Homeplug AV certified cannot be expected to work with your home entertainment system but still can be used for networking your home PCs.
One thing to look out for is if the adapter is Homeplug AV or AV2 certified. The Homeplug AV2 is the latest specification; therefore, you can expect to get better performance from these. If your home appliance is Homeplug AV compatible, you can still get Powerline adapters that are AV2 certified because they are backward compatible. Another thing to consider is how many rooms in your home will need access.
It is also important that you buy the ones that offer encryption as extra security. Most offer 128-bit AES encryption and all you need to do to get this extra feature is press a button and that's it; anyone trying to look in on what you are doing will find difficult to do so.
You should be able to get these online from <Amazon> or at your local electrical retailer. Here are some manufacturers to consider when choosing you Powerline Ethernet Adapter:
Belkin Powerline Ethernet Adapters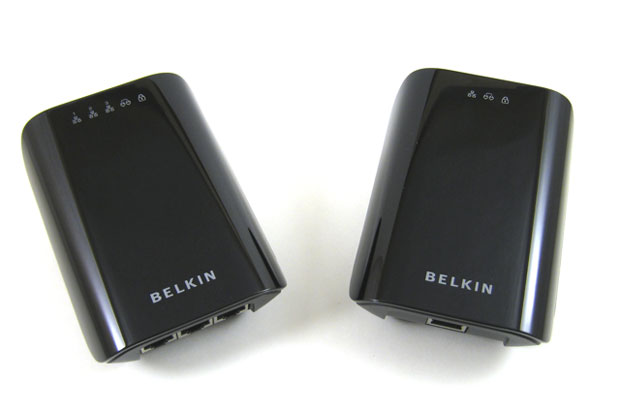 Belkin is a well known brand in Home Networking many of us have some form of computing accessories that is made by Belkin.  As homes are becoming more connected and are using Powerine Ethernet Adapters in addition to standard Ethernet Gateways, Hubs, and Routers Belkin has manage to keep abreast with the change is home networking with an ever changing line of Powerline Ethernet Adapters.
Belkin has three Powerline Ethernet products on the market: The Gigabit Powerline HD Starter Kit, Powerline AV Starter Kit and the Powerline Turbo Starter Kit a mixture of AV and AV2.
The Gigabit Powerline HD Starter Kit is the latest in the Belkin range of Powerline Ethernet Adapters.  It allows you to create a multi-user home entertainment network, just using your existing power sockets. There is no need to run more cables just plug and go.  Their latest Powerline Ethernet adapter can offer data transfer rate of up to 1000Mbps, which means you can run some the most demanding home applications – VoIP, Online Gaming and download HD movies, all at the same time.
The Belkin Gigabit Powerline Ethernet adapter was recently tested by <Tom's Networking Guide>, an independent internet channel. The adapter was tested in a lab situation then a real world environment.  From the result of the test, the Belkin Gigabit Powerline Ethernet adapter performed three to four times better than other Powerline Ethernet adapters.
 
This new Powerline Ethernet adapter is compliant with the recently released draft version of the IEEE 1901 standard. The adapter also features Gigle Networks' Mediaxtream and Xtendnet technologies. Mediaxtream enables home networking devices to deliver wireline Gigabit performance by operating over any combination of powerline, phoneline and coaxial cable mediums.  Xtendnet enables traffic from one or more of these channels to be aggregated, effectively improving coverage, bandwidth and QoS (Quality of Service) as compared to single-medium or single channel solutions.
The Powerline AV Starter Kit offer data speed of upto 200Mbps it is HomePlug AV certified and is an ideal solution for extending internet access within the home. Being HomePlug AV certified it will work with entertainment system in your home that is also certified.
The Powerline Turbo Starter Kit is the lowest spec among the Belkin range, the data speed is 85Mbps and the security is only 64-bit. It is also Homplug 1.0 certified which is not the most recent version. I would say it can still be used if your lifestyle does not demand that much and your entertainment systems will not complain either.
D-Link Powerline Ethernet Adapters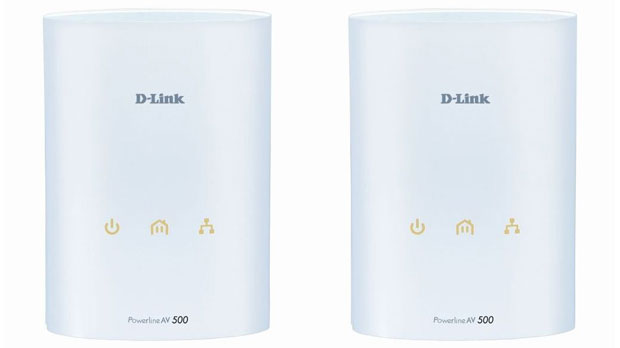 D-Link like the other Powerline Ethernet Adapter supplier is a recognised brand for home networking solutions.  They specialises in providing connectivity for broadband, wireless, security and data communications in the connected home. They are also active in the provision of <home media storage systems> and have managed to keep abreast of the changes in today's digital home and lifestyle. The company is also redesigning their product to be more environment friendly, and have launched the "D-Link Green" initiative to make their products greener (All their products comply fully with the EU's RoHS Directive on hazardous substances).
A new addition to the range is the PowerLine AV 500 line of Adapters. There is the Gigabit Switch (DHP-540) with up to 500Mbps PowerLine performance and 4 Gigabit ports and the PowerLine AV 500 Adapter Kit (DHP-501AV) and PowerLine AV 500 Adapter (DHP-500AV).
The D-Link DHP-343 Powerline HD 4-Port Starter Kit
The DHP 343 starter kit is a combination of the DHP-342 and DHP-302. Together they are design to offer the smooth streaming of your multimedia content, such as online gaming, on-demand online movie services and VoIP calls, with the ability to prioritise your traffic. You can get data transfer rate of up to 200Mbps plus there are four ports on the DHP-342 to connect your other appliances.
D-Link DHP-307AV/B 200 MBPS PowerLine Homeplug AV Network Starter Kit
The DHP-307AV Starter Kit is one of D-Link's latest Powerline Ethernet Adapter, it a combination of two DHP-306AV.  They are part of the D-Link Green eco-friendly range of networking solutions; like the DHP-343 they off Quality of Service (QoS) and are Homeplug AV compatible.
D-Link PowerLine Ethernet Starter Kit DHP-201 - Bridge - HomePlug 1.0
This is an old model but it's still useful if your Homeplug compliant appliance are only Homplug V1.0 compliant.
Netgear Powerline Ethernet Adapters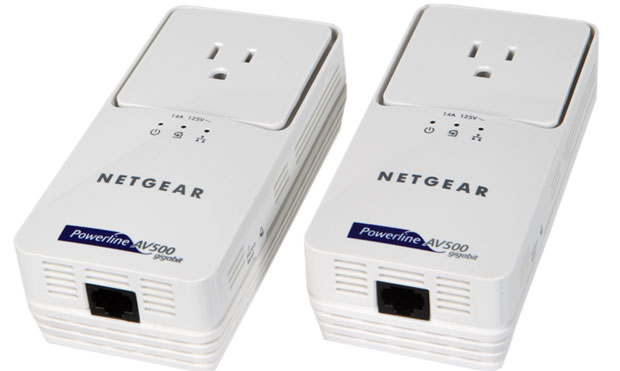 Netgear has been producing network devices for many years and is well known as a quality brand within the home networking market.  Netgear has a track record of bringing the latest in Powerline Ethernet technology to the market.  They offer a broad range of Powerline Ethernet Adapters optimised to deliver the highest performance including single-port, 4-port, pass-through and wireless extensions.
With the growth in smart grid and Powerline Ethernet communication, they are at the cutting edge and continue to produce devices that have the latest standards the offer the best performance. They currently offer  a wide range (XWNB5201, XAVNB2001, XAVB5602, XAVB5601, XAVB5201, XAVB5004, XAVB5101, XAVB1601, XAVB1301) to choose from depending on what you want it for and how you are going to use it.
XAVB Powerline AV adapter kit with ethernet switch
The XAVB range Powerline AV Adapter kit is one of the latest in the range of Powerline Ethernet Adapter by Netgear.  The XAVB5004 unlike other models allows you to connect up to four devices such as a game console, a Network Attach Storage (NAS) server, home entertainment system and more.  With speed of up to 500Mbps, it is fast enough for you to watch High Definition video and movies.  The XAVB5004 Powerline AV Adapter kit offers 128-bit AES data encryption.
You can use the XAVB series to stream content from on-demand service like TiVo and Slingbox and offer network connectivity to your desktop PC, notebook PC, gaming console, a NETGEAR ReadyNAS or  DVR.
Powerline AV 500 and Powerline AV+ 500 Adapter Kit
To this growing list of Powerline Ethernet Adapter Netgear has added the Powerline AV 500 and Powerline AV+ 500 Adapter Kit.  They are Homeplug AV certified, so streaming movie and video from the internet to your home theatre system should not be a problem.  At a rate of 500mbps they are an ideal solution if you want to have a network connection to link your set-top box, DVR, Blu-ray player and game console.
With a similar size as a deck of cards the Powerline AV Adapter Kit has distinguish itself, making it an ideal choice for those that are concerned that it might cover the free outlet. The Powerline AV+ Adapter offers "pass-through" capability, that is, it has an expose power socket for you plug another device into it.
Devolo Powerline Ethernet Adapters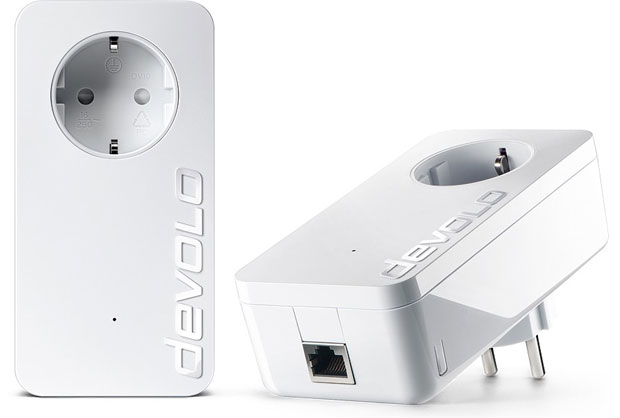 Devolo is also a big name in powerline communication but is better known in Europe. Of the other manufacturers I have mentioned Devolo specialises in powerline ethernet technology under the dLAN brand and has won many awards for their powerline Ethernet solutions.  Like the other manufacturer they too have an extensive range of powerline Ethernet adapters with speed starting at 500Mbps and going up to 1200Mbps (one of the fast available now) plus the option of having 1 to 3 ethernet port on each adapter for more devices.  They have just release the dLAN 1200+ for those who need more bandwidth.
ZyXEL Powerline Ethernet Adapters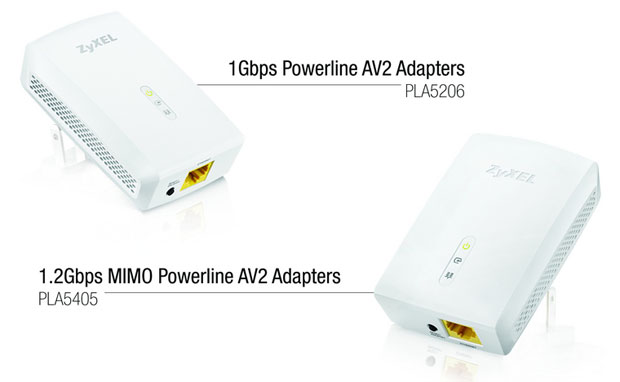 ZyXEL is a lesser-known brand for consumer electronic devices but the company has been providing networking solutions for over two decades. They too offer a wide range of Powerline Ethernet Adapters that offer speeds of up to 200, 500, 600 and 1000Mbps and are Homeplug AV2 compatible.
Their latest are the PLA5206 and PLA5405; they are both Homeplug AV2 compatible, offers QoS  (Quality of Service) to give you enhanced HD video streaming. The new adapters also include 128-bit AES encryption for security, multicolor LEDs to indicate powerline network quality and auto power-saving mode for green operation.
The PLA5206 boasts speeds of up to 1Gbps, while the 1.2 Gbps PLA5405 features Line-Natural / Line-Ground MIMO1 smart-antenna technology, which allows the PLA5405 to send data simultaneously over different wires in the home for faster throughput and extended coverage.