Connected Lighting Solution From GreenWave Reality
Posted on: 23 October 2012
By:

chw staff
GreenWave Reality is making it easier for energy conscious homeowners to have the lighting design they want without worrying too much about its energy cost. At this year's International Lighting Fair in Hong Kong, they announced the availability of their Connected Lighting Solution. With GreenWave connected lighting you can control and automate your lighting with a handheld remote or smartphone.
The Bulbs are Energy Star certified LED bulbs, which according to GreenWave we will only use 20 per cent of the energy a traditional incandescent bulb uses. The technology goes a bit further to help save energy by allowing us to easily control and dim the lights.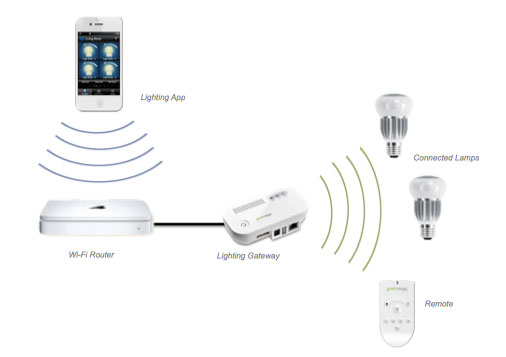 GreenWave said, the connected lighting solution comes pre-configured with "home," "away" and "night" Smart Controls. You can also create your own custom Smart Controls to fit your lifestyle, such as having outdoor lights automatically come on at dusk and turn off at dawn, and even integrating with motion sensors configured to automatically turn lights on or off when entering or exiting a room.
The Connected Lighting Solution can be use on its own, or in conjunction with the existing GreenWave Reality Smart Home Platform, which offers features like energy budgeting, Smart Controls, interactive coaching, and usage alerts.
The solution developed in partnership with NXP Semiconductors offering their JenNet-IP network layer software to provide network connectivity. The Connected Lighting Solution can be installed straight out of the box without any rewiring of the home or need for an electrician.  The GreenWave Reality Connected Lighting Solution is base on IPv6 for low-power devices (6LoWPAN), which is a foundation of the IPSO Alliance.
source: greenwave