Hue Is Philips' Answer to Smart LED Lighting
Posted on: 3 November 2012
By:

Patrick Oliphant

Philips has joined the smart lighting club with the release of Hue smart lighting solution. The LED bulbs come with its own management App for Apple iOS or Google Android devices. Unlike standard bulbs you will use less energy with these, up to 80 per cent less. Connect wirelessly to them and personalize you own lighting scheme.
So, if you are thinking of changing your light bulbs and want to smarten them up at the same time, Hue smart lights are available exclusively through the Apple store, for $199 for the starter kit and additional bulbs costing $59.
The technology in LEDs has allow us to digitized each light this as allow Philips to build smart bulbs where every bulb has a unique web address so that they can be manage with an App, from your iPhone and any Android smart phone.
Hue has 4 pre-programmed light settings, which according to Philips adjust the bulbs to the optimum shade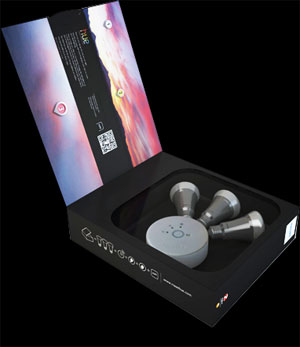 and brightness of white light to relax, read or boost mood and energy.  In addition from your smartphone or tablet you can use Hue to mimick the colors in photos by simply dragging and dropping within the App; manage up to 50 Hue bulbs from one device and allow each bulb to be controlled individually; save personal light settings.
According the Philips this version of Hue is just the beginning, future products will allow Hue to work with your entertainment systems such as sound and video. Also planned it geo-location features, which sense when you are close to home it automatically turns the lights on or turn them off when you leave. Hue can be integrated with other systems, such as motion sensors for additional home automation.
Hue platform is open standard and its wireless connectivity is base on the ZigBee Light standard, allow bulbs to communicate with each other, despite the location of the control bridge.  A benefit of using the ZigBee-based system is that is allows the system to use less stand-by power than traditional Wi-Fi systems. Software updates for the bulbs are done automatically via the bridge and the bulbs themselves, making it easy to add new features and having them running longer.
Philips said they will make the Hue interface and software development kit (SDK) available to anyone who wants to create additional functionality or applications that interact with the system.