NETGEAR Launched 3DHD Wireless Home Theater Networking Kit
Posted on: 9 November 2010
By:

chw staff
Netgear this month released its version of a wireless 3D HD networking home theater solution as part of its Netgear AV Series.  According to Netgear the new 3DHD Wireless Home Theater Networking Kit (WNHDB3004) is capable of delivering jitter-free 1080p high-definition video streaming throughout a home. The transmitter and receiver are built with MIMO (Multiple-Input and Multiple-Output) technology to offer the best possible performance from some of the most demanding applications and systems.
The 3DHD Wireless Home Theater Networking Kit doesn't need a specialist to install.  After unpacking the kit one adapter (the transmitter) is connected to the home router or gateway via an Ethernet cable. Other adapters then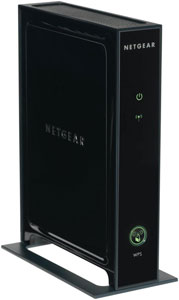 act as receivers, each providing connections for up to four Ethernet-enabled devices such as video game consoles, televisions, broadband set-top boxes, Blu-ray players, digital video recorders, digital media adapters and computers.
"We created 3DHD Wireless technology to keep home networks from becoming a bottleneck for such demanding streams, while eliminating the expense and effort of running Ethernet cables through walls, floors and ceilings. This makes 3DHD Wireless technology an ideal solution for consumers, professional home theater installers and broadband service providers." said Som Pal Choudhury, NETGEAR director of product marketing for Core Networking Products.
Each of the adapters has a visual indicator to show how strong the Wi-Fi signal strength is, making it easy to re-position the adapter for maximum reception. The 3DHD Wireless Home Theater Networking Kit is capable of broadcasting its signals throughout a home of 5000 square feet.  Other keyfeatures include:
Four transmitters and four receivers built into each 3DHD Wireless adapter for Multiple Input Multiple Output transmission (4x4 MIMO), significantly increasing WiFi range and reliability.
Dynamic digital beam forming to steer and target WiFi signals towards the receiver rather than broadcasting the signals in all directions, boosting range.
Space Time Block Coding (STBC) to send multiple and redundant copies of the same data across different paths, minimizing packet loss and improving video reliability.
A feedback control loop that allows the transmitter to adjust its activity based on responses from the receiver, for reliable video streaming even in a changing or high-interference wireless environment.
The NETGEAR 3DHD Wireless Home Theater Networking Kit (WNHDB3004) with two adapters has a manufacturer's suggested retail price of $259 in the United States and will be available worldwide in mid-November, while additional individual adapters (WNHD3004) have a U.S. MSRP of $129.