NETGEAR Released Upgraded Nighthawk Modem Router
Posted on: 2 September 2015
By:

chw staff
NETGEAR has released and upgraded version of its Nighthawk high performance VDSL Modem Router with the Nighthawk X4S AC2600. Nighthawk X4S has a dual-core 1.4GHz processor and built-in DSL modem, it's the first DSL modem router on the market to support the latest Wave 2 WiFi technology with Quad-Stream on both bands as well as Multi-User MIMO-capability. Families with multiple Internet-enabled devices connecting simultaneously to DSL broadband will want to upgrade their WiFi router to the Nighthawk X4S to be able to enjoy its blazing-fast WiFi speeds, extended range, and overall improved streaming and gaming.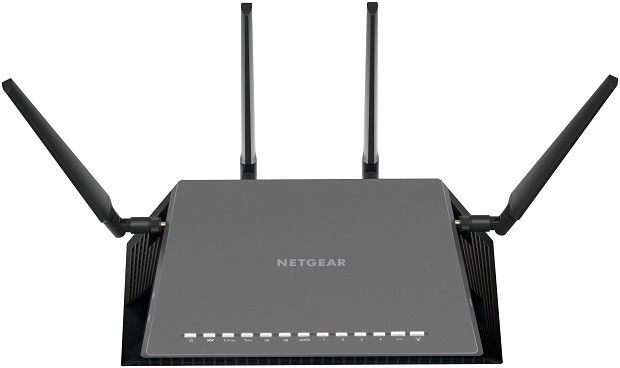 The Nighthawk X4S AC2600 WiFi VDSL/ADSL Modem Router provides a built-in fast DSL modem for broadband that is compatible with legacy ADSL, ADSL2 and ADSL2+ connections as well as lightning-fast VDSL and VDSL2 speeds. Its Gigabit Ethernet WAN port is compatible with any Internet service so that Nighthawk X4S also offers a future-ready upgrade to fiber/cable options.
The dual-core 1.4GHz processor that powers Nighthawk X4S boosts wireless, wired, and USB performance. Nighthawk X4S takes full advantage of the world's fastest AC WiFi technology that's already embedded into your latest mobile devices, while still backward compatible with 802.11 a/b/g/n devices. Within the home or local network, Nighthawk X4S delivers incredibly fast wireless up to 2.53Gbps* (AC2600 WiFi = 800Mbps+1733Mbps*) and Gigabit Ethernet speeds.
Quad-Stream Wave 2 WiFi, the industry's latest WiFi technology, means the X4S supports up to four data streams in each WiFi band, maximizing connection speeds for faster gaming and smoother HD video streaming with greater clarity and less buffering. Moreover, high-powered amplifiers, four high-performance external antennas and Beamforming+ improve the X4S range and reliability to extend WiFi coverage and reduce dead spots.
With MU-MIMO technology designed for simultaneous streaming of data for multiple devices, Nighthawk X4S provides major bandwidth improvement in next-generation mobile devices. It is especially appropriate for home networks with multiple device connections such as smartphones; notebook, tablet and desktop computers; gaming consoles; smart TVs; and Blu-ray players. Instead of sending data to one device at a time, like traditional WiFi routers, the Nighthawk X4S with MU-MIMO will deliver data in parallel to multiple devices simultaneously, essentially doubling the throughput. As a result, you can stream 4K video to one device while also playing an intense multi-user video game on a different device.
"If multiple people in your household are streaming HD Internet content at the same time, it's very likely that the DSL modem router you get in your subscriber service package is not capable of supporting your bandwidth needs," said David Henry, vice president of product marketing and engineering, NETGEAR Home Networking. "With the Nighthawk X4S AC2600 WiFi VDSL/ADSL Modem Router, you'll take advantage of the fastest processor in a DSL modem router combined with the latest innovations in wireless technology for the best experience you can get today for streaming, gaming and file sharing."
Moreover, Nighthawk X4S offers a unique Dynamic QoS prioritization capability. Instead of treating all devices and applications as the same, Dynamic QoS recognizes each individual application and the device it is running on, and prioritizes their network traffic accordingly. Whether you are using your smartphone, tablet or laptop computer for gaming, streaming, transferring files or web browsing, Nighthawk X4S ensures that you are getting the most effective network connection for the best possible experience.
Nighthawk X4S has four Gigabit Ethernet LAN ports for connecting wired devices like game consoles, smart TVs, or streaming players to your existing WiFi network. You can easily add storage by connecting a drive to the twin SuperSpeed USB 3.0 ports or one eSATA port on the Nighthawk X4S, giving you fast access to all your treasured files and multimedia content. The two built-in USB 3.0 ports are NETGEAR ReadySHARE-enabled for wirelessly accessing and sharing content on USB hard drives from any device in your home network. ReadySHARE printing capability means you can wirelessly access and share a USB printer, creating the total package for consumer or home office needs.
Nighthawk X4S offers the highest levels of wireless security to ensure your family's online safety and privacy. Not only do you have VPN support for secure access to your home network, but you can also set up a free URL to create your personal FTP server.
You'll keep your content safe with NETGEAR ReadySHARE Vault, free application software that takes automatic backups of incremental changes on all PCs in your home network and saves them to a USB hard drive connected to the Nighthawk X4S modem router.
Nighthawk X4S also supports the unique capabilities of the NETGEAR genie app. The user-friendly NETGEAR genie, already enjoyed by more than 6 million NETGEAR customers worldwide, is your personal dashboard that makes it easy to install, monitor, control and repair your home network. You can easily access your home network, view the real-time network map of all the connected devices on your network, check bandwidth usage, block WiFi devices, set up guest WiFi, and manage parental controls for safer web surfing on a per-device basis, all through the app. The NETGEAR MyMedia feature enables you to find and play your stored media files from anywhere on your network to your DLNA-ready TVs and music system. You can also make any printer AirPrint compatible for printing from an iPad or iPhone.
Pricing and Availability
Nighthawk X4S AC2600 WiFi VDSL/ADSL Modem Router (D7800) is available now in Australia, and will launch in the UK and throughout Europe in mid-September. You can purchase it in retail shops and online at an MSRP of $529 (AUD), £269 (GBP) and €299 (EUR).