New Philips Home Control Dual Remote Offers QWERTY keyboard
Posted on: 7 September 2010
By:

chw staff
Philips has increased its list of Home Control appliances with the release of Philips Home Control Dual. The new Home Control remote will be come the tool of choice for those who want one device that will offer the service of a mouse, keyboard and remote all-in-one without the bulk. The DUAL features a QWERTY keyboard, gesture control, pointer, touchpad, 4 directional keys, and an optical sensor to manipulate an on-screen cursor and form fields without switching devices.
The Philips Home Control DUAL will complement Philips' Pronto line,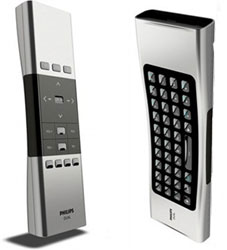 which is quiet popular with home automation integrators. Also customer will see the DUAL as a convenient tool, because many of the devices, like media players, set-top box and streamers are offering internet browsing and access to social media sites. With the Home Control DUAL you can just turn it and use the keyboard facility.
"Traditional on-screen user interface and remote controls are not designed or adequate to handle these features and thus a new approach is required," said Philips "With its new keyboard remote, Philips Home Control provides the perfect solution and shows that sophistication and innovation can go hand in hand." Philips has also recently announced that they are collaborating with Synaptics to develop a home control the will allow for simplified browsing.