Nighthawk X4S AC3200, The First DOCSIS 3.1 Gigabit Cable Modem Router
Posted on: 4 September 2017
By:

chw staff
Netgear has added another router to its range of Nighthawk routers.  The Nighthawk X4S, is the industry first DOCSIS 3.1 Gigabit Cable Modem Router and is also certified for Comcast Xfinity internet services.  With support for the updated DOCSIS, The Nighthawk X4S AC3200 WiFi Cable Modem Router (C7800) is able to deliver Gigabit internet download speeds and strong and fast WiFi connectivity.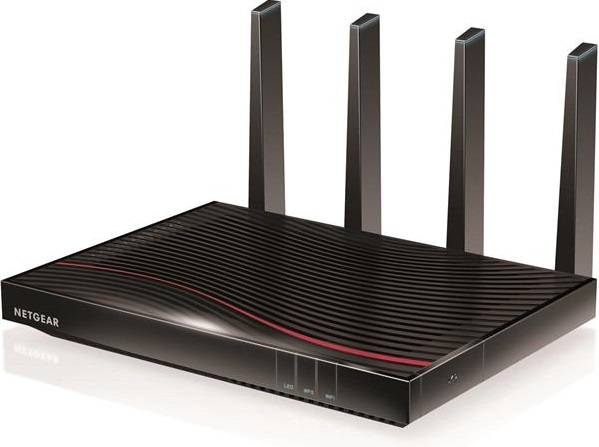 This breakthrough technology makes it possible to get ultra-fast Gigabit internet speeds through the existing coaxial cable connection. The Nighthawk X4S AC3200 WiFi Cable Modem Router is required for the fastest internet speed tiers offered by Comcast XFINITY and other cable internet providers.  The C7800 is backward-compatible with DOCSIS 3.0 and works for all speed tiers. With the purchase of a DOCSIS 3.1 cable modem router now, you can rest assured that it will work on your current cable connection and you are ready to enjoy higher internet speeds service it's rolled out to your region.
The Nighthawk X4S AC3200 WiFi Cable Modem Router offers the latest and fastest cable broadband speeds, and also provides all the benefits you expect from a full-featured dual-band wireless router. It delivers WiFi speeds up to 3.2Gbps for the devices connecting over WiFi on your home network, with a quad-stream architecture that dramatically increases WiFi range using active antenna technology ideal for mobile devices.
Key Technical Features and Benefits
2-in-1 device: Ultra-High Speed Cable Modem and WiFi Router
Built-in CableLabs-certified DOCSIS 3.1 cable modem for extreme download speeds for streaming, downloads, online and VR gaming and more
2x2 OFDM/OFDMA in DOCSIS 3.1 and 32x8 Channel bonding in DOCSIS 3.0 mode for faster data streaming
Simultaneous dual-band AC3200 WiFi for speeds of up to 3.2Gbps, so WiFi devices such as smartphones, tablets, computers, and game consoles easily deliver multiple HD videos
Beamforming+ technology for 2.4/5GHz bands for boosting speed, reliability and range for all WiFi mobile devices
Powerful dual-core 1.5GHz processor for better performance for streaming and gaming
Four (4) high performance active antennas with a patent-pending design for enhancing weak signals and reducing interference
2 SuperSpeed USB 3.0 ports for connecting storage devices and transferring content
Four (4) Gigabit Ethernet LAN ports for connecting more wired devices
NETGEAR ReadySHARE USB port for wireless access and sharing of content on a USB hard drive or printer from any device in your home network
ReadySHARE Vault software for automatic PC backup to a USB hard drive connected to the router
NETGEAR genie for easy installation, monitoring, control and repair of your network
Availability
The NETGEAR Nighthawk X4S AC3200 WiFi Cable Modem Router (C7800) is available now from major retailers in stores and online in the U.S. at about $399.99.