Onkyo Debuts First Nine-Channel Home Theater Receiver (TX-NR1009)
Posted on: 1 June 2011
By:

chw staff
The Onkyo TX-NR1009 available from today is the first of the company's line of AV Receivers to offer nine channel audio entertainment and to feature DTS Neo:X multidimensional audio technology. Now user can attach up to nine loudspeakers with distinct direction clues that enhance the height and space dimensions of a home theater room beyond the capabilities of current seven channel systems—creating a lifelike 3-D soundscape.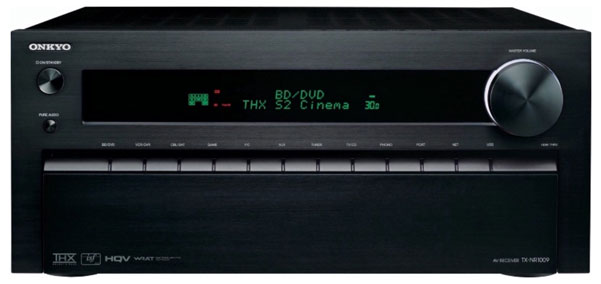 Media Support
Like most new Onkyo receivers, the TX-NR1009 includes extensive networking capabilities with an Ethernet connection plus front and rear USB ports for digital storage devices and Onkyo's optional wireless USB LAN adaptor, the UWF-1. Direct digital connection for iPod/iPhone is available through the front panel USB. This receiver is certified for Windows 7 and DLNA, and can playback a wide variety digital audio file formats via a home network or USB devices, and it is capable of wireless connectivity via Onkyo's optional UFW-1 wireless USB adaptor.
It supports MP3, WMA, WMA Lossless, FLAC, WAV, OggVorbis, AAC, and LPCM files. An iPod or iPhone can also be connected using and optional dock connected via Onkyo's proprietary Universal Port. This U-Port can also be used for an optional HD Radio Tuner and forthcoming wireless devices. The network connection provides Internet radio and streaming music services, with preformatted service packages for Mediafly, Pandora, SlackerTM, Napster, Rhapsody, vTuner, SIRIUS XM Internet Radio, and Last.fm.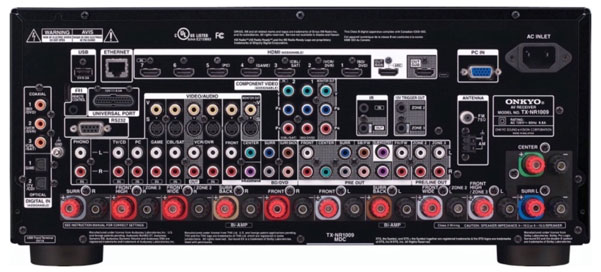 Sound and Audio Processing
The Onkyo TX-NR1009 is a THX Select2 Plus Certified, 9.2-channel, network-capable home theater receiver that, in addition to DTS Neo:X, includes several audio and video upgrades compared to last year's TX-NR1008 model. These include Marvell Qdeo™ and IDT's HQV® Vida™ video upscaling and processing circuits, and Audyssey's MultEQ XT audio room correction.
On-board video processing on the TX-NR1009 is handled by two highly advanced technologies: HQV® Vida™ VHD1900 and Qdeo™ technology by Marvell. Vida offers upscaling of all 480i/p, 576p, and 720p video sources to high-resolution 1080p. Qdeo, meanwhile, performs full 4K (3840 x 2160) upscaling of 1080p sources.
The Vida processor incorporates Auto HQV and HQV StreamClean to enhance video images in real time and eliminate noise in compressed video. With multi-cadence tracking, expanded 12-bit colour processing, and four-field motion-adaptive de-interlacing, Vida optimizes the quality of both standard- and high-definition video images. On the TX-NR1009 also supports independent ISF calibration for optimum video performance.
The Onkyo TX-NR1009's powerful 135-watts per channel amplifier section easily achieves THX-Select2 Plus Certification. Each of the nine amplifier sections employ the company's low-negative feedback Wide Range Amplifier Technology (WRAT), three-stage inverted Darlington circuitry, and the High Current Power Supply (HCPS) uses a massive transformer. In addition, TI Burr-Brown 192 kHz/24-bit DACs are used on each channel to ensure that all digital signals are converted perfectly to analogue sound.
The Onkyo TX-NR1009 uses several different audio processing technologies to help improve the room acoustics and to enhance the ambience dimension of the listening experience. The new Audyssey MultEQ XT room-correction technology allows full spectrum acoustic measurements from multiple locations. Audyssey Dynamic EQ provides loudness correction and Audyssey Dynamic Volume to maintain optimal listening level and dynamic range. For home theater enthusiasts who wish to explore expanded ambience with height and wide loudspeakers, they have the option of using Audyssey DSX high or wide channels, or Dolby ProLogic IIz height channels. The receiver also includes Dolby Volume processing technology to optimize the sound for any listening level.
Connectivity and Control
The TX-NR1009 has one front- and seven rear-panel HDMI inputs, dual HDMI outputs with lossless audio processing using Dolby TrueHD and DTS-HD Master Audio decoding. There is also a full complement of legacy analog and digital connections, including multi-channel audio, stereo, optical and coaxial digital inputs, and a phono input. There are two component video inputs, plus composite/S-Video inputs for four devices. It also has a nine-channel multichannel analog preamp output for possible use with a separate component power amplifier.
The TX-NR1009 has a bidirectional, preprogrammed, and customizable RI remote control. When connected to the Internet, it maintains up-to-date RC control codes for connected devices. With the receiver's Overlaid Graphical On-screen Display, users can speed through on-screen setups while still viewing their program.
The remote also includes Macro presets for four activities. Additionally, the receiver has bi-directional Ethernet and RS232 ports for control, IR input and output, two 12-V triggers, firmware updates via Ethernet and USB, GUI Navigation via HDMI, powered Zone 2, and Zone 2/3 preouts.
The Onkyo TX-NR1009 will is available from Onkyo dealers at suggested retail price of $1,399.