Samsung Extends Eco Bubble Range With Yukon, The World's Largest Washing Machine
Posted on: 19 November 2012
By:

chw staff
Samsung Electronics has unveiled the largest washing machine and dryer in the world, available to home users with an unprecedented 17kg washing capacity and 9kg for drying. The Yukon has the largest capacity of any two-in-one washer/dryer appliance in the world. With its spacious and efficient design, Samsung is helping to reduce the number of washing cycles needed, making life easier for large families that struggle to manage their laundry piles.
As part of the 'Eco Bubble' range, the Yukon provides outstanding washing performance while using up to 70 per cent less energy than standard machines. In addition, the Yukon features Samsung's VRTTM technology which reduces vibration and noise from unbalanced loads.
"We are delighted to showcase the largest capacity washing machine in the world, satisfying the demand from families in the region. At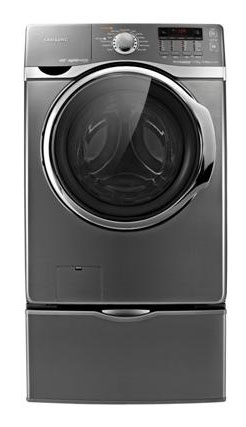 Samsung, we look to offer consumers what they really need with well-engineered and innovative digital home appliances, designed to offer practical solutions that make a difference to people's lives." Said Robin Kadyan, General Manager of Home Appliances Sales Group at Samsung Gulf Electronics. "Consumers today value a high performance appliance with a large capacity so they can reduce their daily cycles as well as having eco features to reduce household energy consumption."
Large capacity washer and dryer
The Yukon boasts a 17kg washing capacity, the largest on the market and even when in dryer mode it can hold up to 9kg allowing families to clean and dry large laundry loads at once. With this extra space and power you can throw your full king size comforter in with other bedding without compromising on cleaning quality, saving time and energy.
Eco Bubble
The secret to Samsung's Eco Bubble appliances is their unique Bubble generator which generates foam by dissolving detergent with air and water before the normal cycle begins. The perfectly dissolved detergent penetrates fabrics quickly, evenly and deeply by using only cold water, a feature which helps reduce energy consumption.
Bubble Generator uses a special airing process to create a rising cushion of soapy rich bubbles. This technology completely revolutionizes how the detergent gets into the clothes as the bubbles soak into fabrics quickly, deeply and evenly before being rinsed out.   
With soap-rich bubbles, cold water can wash your clothes just as effectively as the hotter 40°C water, reducing the energy requirement for heating. As a result consumers will benefit from as much as 70 per cent energy savings in a single cleaning cycle.
Design and Innovation
Thanks to Samsung's Digital Inverter Motor and VRTTM technology, individuals can save even more energy while reducing noise from the washing machine so you can do your laundry with minimal disruption in your home. Samsung has been pioneering this design feature to offer a quiet performance with increased durability. The Yukon's Digital Inverter Motor comes with a 10 year warranty, underlining Samsung's commitment to superior product quality and highlights the company's dedication to develop reliable, durable home appliances that offer enhanced energy efficiency.  
With Samsung's new and improved internal design, you don't have to worry about damaged clothes. With most conventional washing machines, fabrics protrude from water exit holes and are damaged in the washing process. The Samsung Yukon's Diamond Drum design has smaller water exit holes that prevent fabric from sticking out and being damaged during the washing and drying cycles.
Unlike regular washing machines, Samsung has designed the Yukon with a sleek and slender metallic body which brings a sophisticated and modern feel to the laundry room. Samsung offers full range of Eco Bubble washing machines in various sizes including the Sunny Bubble with 7kgs capacity, the Scout & Vistula with 8kgs and the Arno at 12kgs.
Source:albawaba