What Samsung did Next With SmartThings
Posted on: 20 September 2015
By:

Patrick Oliphant
It's just over a year now that Samsung acquired SmartThings, and to show us what they have been doing with SmartThings since the acquisition, they were at IFA in Berlin. At the show, they launched an upgraded version of the SmartThings Hub with a new design and a more powerful processor to support video monitoring; now called the "Smarthub" and a range of sensors.  They have also used the opportunity to announce products for the UK connected homes.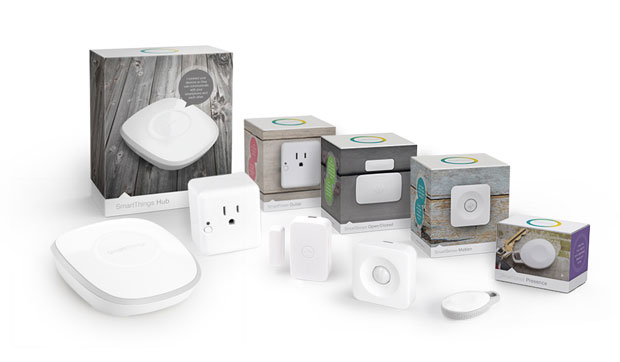 According to Samsung, the Smarthub, which is their main launched, is to play a central role in the home allowing you to connect and manage compatible devices. It supports various wireless protocols such as Zigbee and Z-Wave, meaning other connected products like Philips Hue light bulbs, Yale smart locks and D-Link security cameras are all supported out of the box.
The company said they are focusing on security solutions for the home, as it is the main growth area at the moment.
There are a host of sensors; the motion and multi sensors are to informed you when some move into a particular are of the house, by sending messages. The Presence sensor, you can carry around with you like a key chain or pet's collar; it recognise when someone arrives or leaves the house and allowing you to program actions for it.  Your phone can also act as a presence sensor.
The motion sensor can be used to trigger lights too, so you wouldn't need to turn on a light switch when going to the bathroom at night. Both have integrated temperature sensors, which can be used to set up actions, but the Multi also has vibration and orientation sensors, making it ideal for alerting you when someone knocks on the door.
The other two are the Moisture and Outlet sensor. The Moisture sensor helps to detect and alerts you of any water is detected.  The Outlet sensor allows you to create power on and power off schedule for some of your home appliances and at the same time it monitors energy usage, reporting power usage through to the app on your phone.  A Starter Kit comes with each of the sensors.
These new connected home solutions are part of Samsung's plans to become a major player in the connected home market.  During CES2015 Samsung announced plans to invest over $100 million into 'internet of things' (IoT) solutions and to make its products IoT ready.