Control Your Panamax UPS Remotely With BlueBOLT
Posted on: 16 August 2009
By:

Patrick Oliphant

Panamax and Furman as announced some new products as a preview to this year's CEDIA show in Atlanta - 9th to 13th September.  The companies will introduce a new enhancement to its range of UPS battery backup for home theater systems. Named BlueBOLT and is due out Q4 2009. The new tool will provide a secure remote control of your UPSs.  The remote control is enabled by hosted IP (internet protocol) over compatible Panamax and Furman products.
Unlike other hosted IP UPS remote control user interface for BlueBOLT offer a richer user interface to provide ease of use for administrators and installers to manage multiple instances across multiple locations.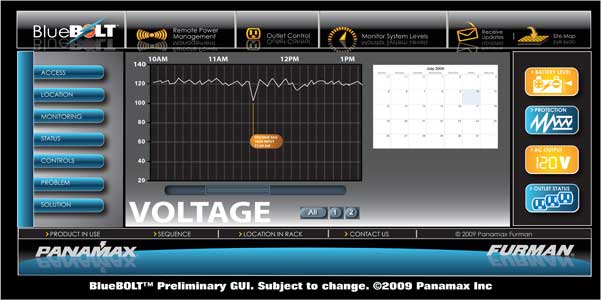 The BlueBolt technology will be available via an add-on card compatible with selected Panamax and Furman UPS products. There are no static IP addresses to obtain, port numbers to remember, or new ISP accounts to configure. Unlike traditional IP systems that require a dedicated IT professional or programmer to set up, BlueBOLT offers true plug-and-play operation. Users simply connect any Panamax or Furman product equipped with a BlueBOLT IP communications card to the Internet, and the unit will find its home server and be ready to use with minimal configuration.
Using any web browser or web-enable mobile device you can power-cycle individual outlets or outlet bank from the BlueBOLT interface.  Devices that might need regular reboot or need to be power cycle because of a fault e.g., internet routers and switches can be access remotely – reducing the need to travel or service calls.  As BlueBOLT-compatible products provide a wide range of remotely controlled features, BlueBOLT's modular nature allows multiple products and feature sets to be controlled using a single access point and interface.
Already BlueBOLT remote control through is an available option on the Panamax MB1500, a fully programmable UPS.  The MB1500 features a 12A capacity with 1500VA battery backup, surge protection, automatic voltage regulation and Linear Filtering Technology (LiFT).



With BlueBOLT, voltage and current consumption can be monitored in real time or tracked over a time period. E-mail notifications are sent when power anomalies are detected, allowing installers and end users to take immediate action in the event of a catastrophic surge, brownout, blackout, or other power event. BlueBOLT also provides a simple and convenient way to manage energy consumption by cutting off all current to select components, thereby eliminating wasteful stand-by power in an A/V system.
Other products in the Panamax and Furman range of battery backup UPSs are the Panamax MB850 and Panamax MB1000.  The latest addition is the MX5102. It is the first of the Panamax range to combine power management features such as linear filtration and surge protection with battery back-up for home theater systems, all in a single hybrid component.  Available as a standalone product or as part of a rackmount solution, the unit's front panel offers an LCD status display that shows the incoming line voltage as well as battery run time remaining in case of a temporary power failure. The hybrid MX5102 provides UPS functionality via two of its 10 outlets, while still providing common power management features such as high-current outlets and 12V triggering to the switched outlet banks.