Frostdale Nanogrid Wireless Switch Won Red Dot Award
Posted on: 16 March 2011
By:

Patrick Oliphant
Frostdale, a manufacturer of home automation and energy management solutions for residential and commercial buildings has been awarded the red dot award: product design award for its Nanogrid Wireless Switches.  The Nanogrid Wireless Switch was among the 4,433 products from designers and companies from 60 countries. The switches are Z-Wave compatible* so they can be integrated with other connected appliances in the home to offer users more flexibility and better user experience.
According to Frostdale the switches were inspired by the curves found in traditional Korean architecture and clothing. They are capable of delivering detailed energy usage and history data to users via the freely available web or smartphone applications. Integrating with temperature sensors and imaging equipment are available options for expanding the switches' functionality.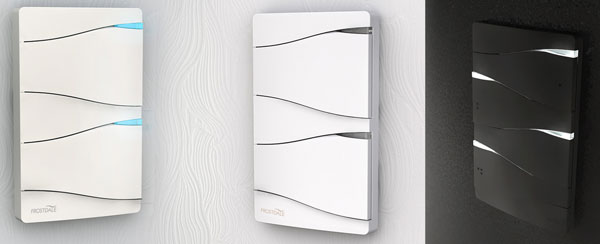 The Good Design committee, sponsored by the Ministry of Knowledge (Korea), aims to recognize and reward creativity and innovation that enhances daily life through superior design.  Judging occurs in six stages whereby products are evaluated by a panel of government appointed judges from various fields; in total, the panel comprises nearly one hundred design experts from various fields.  Among the criteria weighed are form, environmental friendliness, usability, and how well the product relates to consumer needs.
*Z-Wave switches no longer feature the optional imaging equipment.