Introducing Verbatim Store 'n' Go Clip-it and MediaShare Mini
Posted on: 12 November 2010
By:

Patrick Oliphant

Verbatim has combined it award winning Store 'n' Go Clip-it USB drive with its MediaShare mini to offer a complete home media storage solution.  Both solutions can complement your existing DLNA compliant system or USB router. The Store 'n' Go Clip-it offer the convenience of being a storage device as well as a paper clip. The MediaShare Mini acts as a hub in bringing it all together.
Designed by award-winning Berlin-based product/industrial designer Arman Emami, the Clip-it has earned an impressive Red Dot Design Award.  The Store 'n' Go Clip-it is an innovative lightweight paper clip-like device that lets you easily keep your digital and hardcopy together by combining the functionality of a flash storage device and a paper clip all together.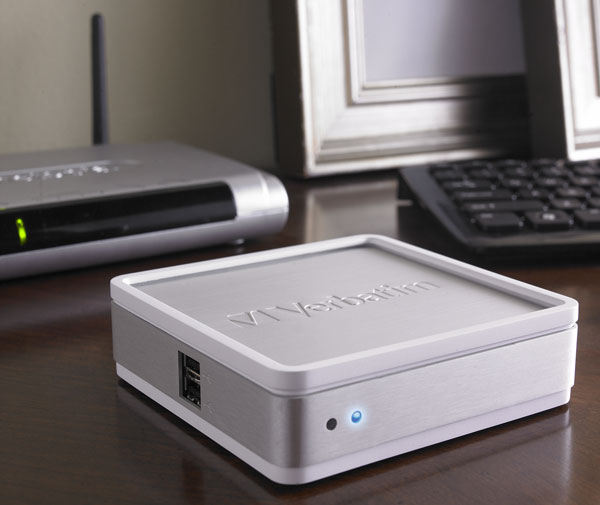 Under the slogan "Simply Connect, Share and Stream" the Verbatim MediaShare does just that. Plug any USB hard drive or flash drive into the MediaShare Mini, and your content automatically becomes accessible on your home network. You can connect up to 4 USB devices (2 at the side and 2 at the back) plus Ethernet, your Sony Playstation 3, Microsoft Xbox or other DLNA compliant device to stream your videos, photos and music.

The Store 'n' Go Clip-it USB drive is available in 4GB sizes and comes in five bright colours to fit every mood and décor —blue, pink, green, black and orange. Simply snaps it onto documents, folders and envelopes like a paperclip, it's an easy and stylish way to save and share your digital content.
If you forget your flash drive or an external hard drive plugged in at home – which we sometime do, MediaShare Mini has remote access capabilities.  It lets your connect, share and stream files to/from your attach drive via the internet from anywhere.  Using a smart mobile device such as a Blackberry, iPod Touch, iPhone, iPad, Android or Palm Pre, you can connect and access your files. With the MediaShare Mini you can easily and quickly upload, download & manage files; view photos, play music & watch videos.  Upload your photos directly to Facebook, Flickr - premium subscription required) & more.