Logitech Released Logitech Revue with Google TV
Posted on: 13 October 2010
By:

Patrick Oliphant
Logitech has delivered on their promise they made in the first half of this year when Google launched its Google TV platform. At the time Logitech was highlighted as one of the key partners to the project and they promised to follow up with the release of a range of product for Google TV. Well four months later they have delivered on that promise with the release of Logitech Revue and a host of other products to help users to better experience Google TV.
The star component of the range is the Logitech Revue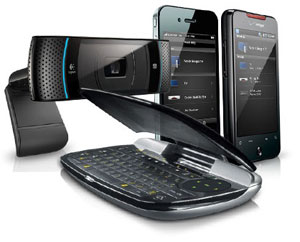 with Google TV other products includes Logitech Vid HD Services, a HD Video calling solution and Logitech TV Cam. Other complements are the Logitech Mini Controller and other applications designed for the Google TV platform.
With Google TV partners beginning to release their respective solution for the platform it is beginning to become real for many users.  Google TV promises to revolutionise the television platform, by changing how we use our television and the services we will get from it in the future.
 
According to Logitech the, "Logitech Revue with Google TV makes it easy for people to use just one controller to find and enjoy content from a variety of sources – programs from TV providers; the entire web, including Flash-based games, photos and videos from their personal library and a growing  selection of apps."
Logitech Revue with Google TV
The Logitech Revue is built with Intel's energy efficient Atom processor CE4100 and needs only a broadband connection and connection to you home entertainment system for you to start exploring the web in a different way. By connecting the HDMI ports on the Logitech Revue to your HDTV and cable or satellite provider set-top box, with power and configuration you are ready to start using (all to this should take minutes).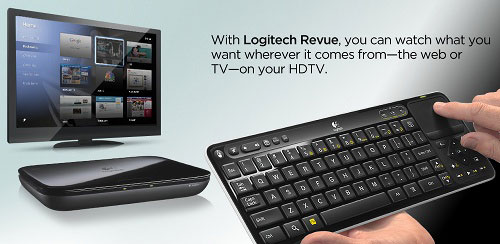 To complete the browsing/viewing experience there is the Logitech wireless Keyboard controller – looks like the standard computer keyboard but with more functionality for enhance your browsing experience. You can also control your TV, DVR and AV receiver, so rather than using a different remote, you can do it from the keyboard. Embedded in Logitech Revue is Logitech's Harmony Link technology, which allow for easier interaction with content on the screen and the Google TV platform.
Logitech Mini Controller
The Logitech Mini Controller removes the need for a mouse.  Measuring just 6x3.5inches it offers a palm-sized keyboard, touch pad and control combo. But for ease of use and Google TV in mind it offers complete control over your Google TV system and like the Logitech keyboard controller, the mini controller provides buttons to control your AV receiver, TV and DVR.
Logitech Vid HD and Logitech TV Cam
The Vid HD and TV Cam allow you to make high definition video calls of up to 720p from the comfort of you living room without the need for a PC. The complete system is managed through the Logitech Revue via your television.
For added control and for you to see what can be done with Logitech Revue with Google TV Logitech said they have released two downloadable Apps: the Logitech Harmony for iPhone and the Logitech Harmony for Android. These Apps will allow you to user your iPhone, iPad, iPod Touch or Android device to control your Google TV experience.
Within this release are endless possibilities what of we can now do through out TV and what is to come in the future.  Also with Google TV being an open platform built on Android technology what possible might up to our emagination.