Rogers of Canada Launches "Smart Home Automation"
Posted on: 17 August 2011
By:

admin
Almost nine months after announcing plans to launch its own home automation solution, Rogers of Canada has finally announced the release of Smart Home Automation, a managed home solution.  According to Rogers the new solution brings home monitoring and automation to Canada's home owners finger tip whether they are home or away. The move is part of Rogers' strategy to move into new markets and create new revenue streams.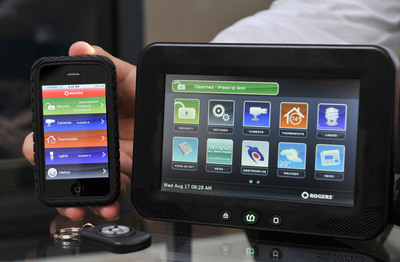 Powered by both Rogers cable and Rogers wireless networks, Smart Home Monitoring lets you automate and manage sensors, cameras, thermostats, lights and small appliances from their computer or Smartphone. Forget to secure your home; you can easy arm/disarm your security system.
Available in wall-mount or table-top, the touchpad provides quick 1-touch access to home security functions, home automation apps for lighting, cameras and thermostats as well as multimedia apps for weather,  sports photos and traffic.
The touchpad constantly communicates with its highly encrypted smart sensors throughout the home.  When an alarm occurs, the touchpad instantly connects with the Rogers central monitoring station simultaneously over both Rogers cable and wireless networks.
Additional features and benefits of the service include:
Real-time, 24/7 monitoring at the Rogers Central Monitoring Station provided by certified security experts with over twenty years of experience in security, monitoring and emergency services
IP-based dual network connections ensure constant connection of the home to the Rogers Central Monitoring Station
Real-time sensor and video alerts sent via text and email
Remote access from a computer or Smartphone to securely view, control and arm/disarm the home
Professional installation by specially-trained Rogers cable technicians
Smart Home Monitoring has three rate plans, each including always connected wireless-data backup, starting with the Home Basics plan at $39.99 per month. Rogers Cable Hi-Speed Internet required.  The Touchpad starter kit is $149.00 on a three-year term, or $749 with no term, with optional sensors available a-la-carte and in discounted Value Packs.   All systems are professionally installed for a one-time fee of $99.00.
www.rogers.com/smarthomemonitoring
See Also: Verizon to Launch Home Monitoring and Control Service