Connect Your Home Systems to the Web with D-Link HD MediaBridge
Posted on: 22 April 2009
By:

admin

D-Link announced that it has begun shipping the easy-to-use HD MediaBridge® Starter Kit (DXN-221) that taps into existing coaxial wiring throughout the home, delivering fast, secure and stable connections for extending a home network to devices at the entertainment system and to multiple rooms without interrupting cable service.
The DXN-221 is designed for users who want to add bandwidth-demanding applications, such as high-definition (HD) media streaming, music-sharing and online multi-player gaming, to the home network. Included are two adapters, each with a wired Ethernet port and coaxial F-type connector for bridging the two adapters together.
Users can easily connect one of the included D-Link® HD MediaBridge Adapters to their existing home network router and then to an available coaxial outlet in the home, enabling network and Internet access to multiple rooms. A second adapter is connected to a coaxial outlet in another room to connect Ethernet-enabled devices like PCs and media players. The DXN-221 may be used in rooms with multiple devices by connecting a switch (such as the D-Link DGS-2205 5-Port Desktop Switch) to the adapter to connect additional devices.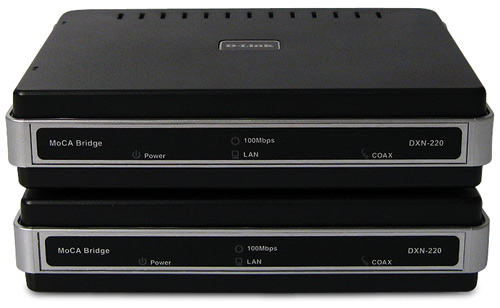 The technology also works as a point-to-multipoint network, enabling multiple adapters to be placed throughout the home for connections in any room with a coaxial outlet.
With simple plug-and-play installation, the DXN-221 is ideal for connecting an Ethernet-enabled digital media device, such as TiVo® or Slingbox(TM) to the home network and the Internet. It also allows users to connect gaming consoles, like the Xbox 360®, Playstation 3® or Nintendo Wii(TM) to the Internet.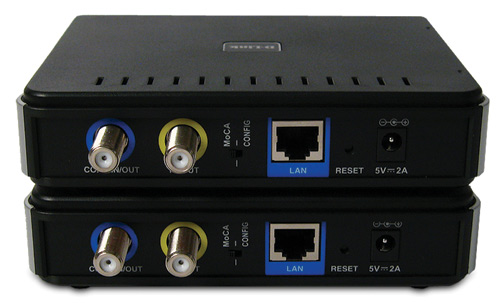 Related: Cisco to use Medianet to Deliver Next Generation Connected Life at Home Solution
Related: Integrate your Home Media with Linksys Media Hub Home
"With simplified user setup, coaxial networking support, the ability to coexist with other coaxial devices and fast networking speeds, our HD MediaBridge Coax Network Starter Kit delivers a simplified networking solution that makes it easy for consumers to enjoy the benefits of a digital home designed for high-definition media streaming, online gaming and other emerging applications," said AJ Wang, chief technical officer for D-Link.
"The technology is a natural complement to our popular networking solutions for moving data quickly into areas of a home where it may be difficult to run a cable or achieve a strong Wi-Fi signal," he said.
The DXN-221 is certified by the Multimedia over Coax Alliance (MoCA) to ensure that it works with other electrical home technologies. MoCA certified products are able to seamlessly deliver HDTV and DVD-quality digital entertainment and high-speed data without interference or latency. The device operates in the 800-1500MHz range, making it compatible with homes wired for cable TV and Internet services.
Price and Availability
The D-Link Coax Ethernet Adapter Kit (DXN-221) is available from D-Link's network of retail outlets, e-tail shops and at the company's online store, www.dlinkshop.com, with a manufacturer's suggested retail price of $239.99.
About D-Link
D-Link is the global leader in connectivity for small, medium and large enterprise business networking. The company is an award-winning designer, developer and manufacturer of networking, broadband, digital electronics, voice, data and video communications solutions for the digital home, Small Office/Home Office (SOHO), Small to Medium Business (SMB), and Workgroup to Enterprise environments. With millions of networking and connectivity products manufactured and shipped, D-Link is a dominant market participant and price/performance leader in the networking and communications market.
source:www.marketwire.com